OLLI Business & Town Hall Meeting
Wednesday, April 19, 2017 -

11:30am

to

1:00pm
OLLI's Annual Business Meeting offers members a forum for understanding how OLLI operates. Did you know, for example, that membership fees cover only 48% of OLLI expenses? Do you know the actual cost per member for running OLLI is $252? Are you aware that office volunteers alone provided more than 3,000 service hours last year?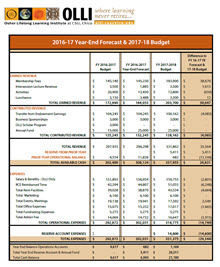 [2]This year we are introducing a new, Town Hall-style discussion about the future direction of OLLI. In addition to reviewing last year's budget and this year's forecast, plus presenting the proposed 2017-18 budget [2], Advisory Council Chair Mike McCluskey will invite everyone to share their vision for OLLI in the future. Where do you see OLLI in five years? What kind of classes, travel, and other learning opportunities would you like to see offered? Are you happy at Craig Hall or do you envision a better way to build community and centralize OLLI activities? We'd love to hear from you!
Join us on Wednesday, April 19, from 11:30am–1pm at the Chico Masonic Family Center [3] on W. East Avenue. Lunch will be served!