8th International Plant Gall Symposium 2023
July 10-15, 2023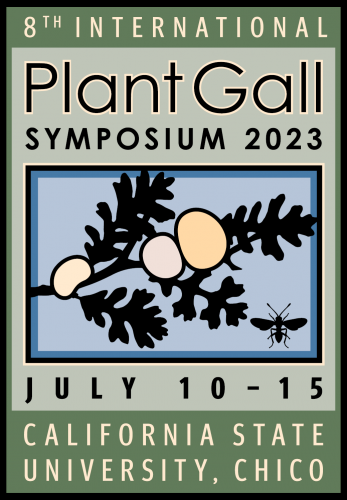 California State University, Chico is proud to host the 8th International Plant Gall Symposium on July 10-15, 2023. The Wish They All Could Be California Galls multi-day event will include guest speakers, group activities, workshops, and much more. Hosted by Donald Miller, Professor, California State University, Chico and Matthew Buffington, Research Entomologist, U.S. Department of Agriculture, this symposium will bring together visitors from around the world to the first symposium of this kind scheduled in North America. Come and see why they wish they could all be California galls!
Location
The symposium will be held on the beautiful campus of California State University, Chico in Northern California, USA. Campus was declared an arboretum in 1982. With over 200 species of plants, the arboretum encompasses all 132 acres of the university campus. Chico is the cultural and economic center of the northern Sacramento Valley, as well as the largest city in California north of the capital city of Sacramento. The city is a classic college town and the home of Bidwell Park, one of the largest urban parks in the world. Learn about travel and accommodations for the Symposium. Explore Chico and the North State area. There will many opportunities for gall collecting.
Call for Abstracts & Posters
Are you interested in sharing your knowledge, research, and expertise with your peers? The call for abstracts and posters is now open. Submit your request today!
Symposium Schedule
Sunday, July 9
• Bus pick up at Sacramento International Airport (SMF)
Monday, July 10
• Bus pick up at Sacramento International Airport (SMF)
• Arrival & Registration at Chico State, 7:30am-5pm
• Poster Session Set-Up
• Welcome Reception at Warrens Center, 5:30pm
Tuesday, July 11
• Welcome & Opening Session: Special guest and welcome address from He-Lo Ramirez. He-Lo is a biologist, environmental educator, type-2 wildland firefighter, land manager, a cultural practitioner, and member of the Mechoopda Tribe the aboriginal peoples of the Ótakim Séwi (Big Chico Creek) watershed, the Eskenim Séwi (Butte Creek) watershed, as well as both banks of the Séwote:m (Sacramento River) in what is now Butte and Glenn Counties. He-Lo is also a representative of the Butte Creek Ecological Preserve.
• Session I
• Lunch on Your Own
• Session II & III
• Dinner at Madison Bear Garden.
Wednesday, July 12
• Excursion: Big Chico Creek Ecological Reserve (BCCER)
• Dinner on Your Own
Thursday, July 13
• Oak Apple Activity
• Special Guest Speaker: Dr. Ray Gagné, an American entomologist whose work focuses on gall midges. He has authored at least 230 scientific publications and described 68 genera and 332 species. Most of his work has been done as part of the USDA Systematic Entomological Laboratory at the Smithsonian Museum of Natural History. The wood midge genus Gagnea was named in his honor.
• Session IV
• Workshop 1
• Session V
• Dinner on Your Own
Friday, July 14
• Chico History Museum Lecture & Guided Tour
• Poster Session
• Workshop 2 & Working Lunch
• Session VI
• Sierra Nevada Brewery Tours
• Farewell Party at Sierra Nevada Brewery
Saturday, July 15
• What's Next?
• Buses Depart for Sacramento International Airport (SMF)
Contact Us
Symposium Co-Chairs
Questions? Contact conferences@csuchico.edu