8th International Plant Gall Symposium 2023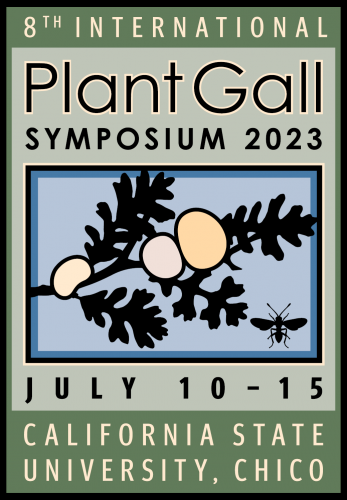 California State University, Chico is proud to host the 8th International Plant Gall Symposium on July 10-15, 2023. The Wish They All Could Be California Galls multi-day event includes guest speaker Dr. Raymond J. Gagné, collecting excursions in the local mountains & park, expert presentations, poster sessions, and a farewell dinner to top off the week's activities.
We are so excited to be able to welcome visitors from all over the world representing more than 12 countries. We have put together this list of information to help make your visit easier. We can't wait for you to see why they wish they could all be California galls!
Symposium planning committee:
Donald Miller, Professor, California State University, Chico
Matthew Buffington, Research Entomologist, U.S. Department of Agriculture
Carol C. Mapes, Professor, Kutztown University of Pennsylvania
Sarah Melissa Witiak, Associate Professor, Virginia State University
Important Information for Your Upcoming Visit
Main symposium check-in will be in Colusa Hall (Map) on the California State University, Chico campus (Map)- Monday July 10 from 8:00 a.m. until 5:30 p.m. Chico State is located at West Second and Chestnut Streets in downtown Chico. Please use 400 West 1st Street as the physical address.
Colusa Hall (Map) is our main symposium venue and will be the hub for almost all conference activities. When you check in Monday, the presentation room will be open for tech set-up and the poster session room will be available for poster set-up. Posters can also be set up on Tuesday morning.
View / download the Symposium Schedule at a Glance for a preview of presentations, posters, and excursions. We'll hand you a printed program with all the details when you check when you arrive next week.
We kick off the week with a Welcome Reception on Monday, July 10 from 5:30 to 7:00 p.m. on-campus in the ARTS building (Map). We will have appetizers and a no host bar. Visit our conference webpage for a map to the campus location.
Conference Attire is casual. Shorts and sandals are appropriate. Our main venue room is air conditioned but the weather in Chico during the month of July can be hot and dry. Temperatures can top out at 100 degrees during the day and 70 degrees at night with very little humidity. Pack lightweight clothing, a hat & comfortable shoes. We have a planned excursion to the local foothills during the symposium. Make sure you dress appropriately for hiking, bring your collecting gear, and apply sunscreen. Please note: Our area is known to have poison oak.
Parking on campus requires a DAILY permit. Instructions for purchasing a DAILY permit at a discounted symposium price and map can be found here. You must purchase a permit each day if you are driving to/from campus. If you purchased a permit when you reserved your on-campus residence hall room, it will be included in your residence hall check-in packet and will cover the week of your stay. There is free, street parking south of campus between 2nd and 8th Streets.


Location
The symposium will be held on the beautiful campus of California State University, Chico in Northern California, USA. Campus was declared an arboretum in 1982. With over 200 species of plants, the arboretum encompasses all 132 acres of the university campus. Chico is the cultural and economic center of the northern Sacramento Valley, as well as the largest city in California north of the capital city of Sacramento. The city is a classic college town and the home of Bidwell Park, one of the largest urban parks in the world. Learn about travel and accommodations for the Symposium. Explore Chico and the North State area.There are many opportunities for gall collecting.
Contact Us
Symposium Committee
Questions? Contact conferences@csuchico.edu