Fall General Meeting ~ Wednesday, Oct. 10
Every semester, OLLI brings members and friends together to reconnect, stay engaged, and enjoy the wisdom and expertise of Chico's best. This fall we are pleased to welcome Dr. Kate McCarthy as our featured speaker, who will present Loving Our Political Enemies: Notes on the Most Urgent Task of our Time.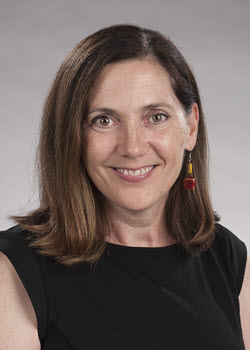 Americans are more politically polarized than at any time in recent decades, making civil discourse across lines of difference—even at the family dinner table—increasingly rare. Dr. McCarthy draws on her decades of research in interreligious relations to make sense of the current political divide and offers local strategies for finding common ground across the red-blue divide.
Kate McCarthy is Interim Dean of Undergraduate Education at CSU, Chico, where she also served as Chair of the Department of Comparative Religion and Humanities. She earned a BA in Religion and English from Colgate University, a Master of Theology Studies from Harvard Divinity School, and a PhD in Philosophical Theology from the Graduate Theological Union in Berkeley. She is author of Interfaith Encounters in America (Rutgers University Press, 2007) and co-editor with Eric Maxur of God in the Details: American Religion in Popular Culture (Routledge, 2010). Following the 2016 election she founded Depolarization Chico, a community group dedicated to finding the root causes of our political divisions and implementing local strategies for mutual understanding and dialogue.
We hope you'll join us Wednesday, October 10, from 11:30am–1pm at the Chico Masonic Family Center, 1110 W. East Avenue. Social hour starts at 11:30 and program begins at noon. Refreshments will be served.
Fall Classes are Underway
Many, many thanks to our incredible staff and registration-day volunteer team who answered phones, returns dozens of phone calls, and processed piles of paper registration forms on opening day.
Don't forget...you can add and drop classes throughout the semester. In fact, there many classes that start in October, November and even December so it's never too late.

Fall 2018 Class Schedule
It's here! The curriculum committee and our volunteer Peer Leaders have outdone themselves yet again. We have 135 classes scheduled to keep you engaged and learning this fall. Take a look at the schedule for all of the details.
Registration opens Aug. 16 at 9am. Classes begin September 4.

You can renew your membership or join OLLI online or by calling 530-898-6679. You can also download and mail in a '18-'19 membership form.

Fall Fees

Chico Chapter

• Fall '18 & Spring '19 Bundle: $215
• Fall '18, Spring '19, & Summer '19 Bundle: $230 (Add summer now and save $60!)
• Fall '18 & Spring '19 Bundle: Peer Leader Discount $185*

*To qualify for the Peer Leader discount, you must lead at least one class during the 18-19 academic year (fall, spring, and/or summer terms).

Greater Butte County Chapter

• Fall '18 & Spring '19 Bundle: $80

We suggest you pay your membership fee early, either online, by mail, or by phone. This will help you get your classes faster and easier on registration day.
A Brighter OLLI Is an Engaged OLLI!
OLLI serves a vibrant community of adults over 50 who are generally well-educated, active, engaged in life, and have disposable income. The generous gifts of our business sponsors support the cognitive and social benefits of OLLI, help us deliver excellent programming, and enable us to offer fee assistance to members who couldn't otherwise afford to participate. Thank you to our Business Sponsors!
Meet Your Match!

Volunteers are the backbone of OLLI at CSU, Chico. They provide instruction, communications, technical support, outreach, and help us make important social connections. Without volunteer support, OLLI Chico could not provide the array of lifelong learning experiences members enjoy year-round. The Volunteer Connections Program is designed to keep OLLI programming sustainable by expanding volunteer participation. Learning more about you—your skills and interests—will help us connect you to areas of need within the organization. Email us if you'd like to Connect Today.