OLLI Virtual Summer Term 2020
Social distancing does not have to mean social isolation. While we never imagined the need to factor social distancing into our programming plan, we are determined to stay connected—in new ways! This year our Class Preview and all summer classes will be held virtually, as a combination of live-online classes, webinars, and pre-recorded presentations. In addition to a variety of new topics to keep you engaged, there's the learning curve of adopting new technology to teach, to learn, and to stay connected. We hope you'll join us in this new adventure in lifelong learning. See you in class!
Class Registration Opens Today at 9am!

To register for classes, log into the OLLI Member Site. New members can also join and pay fees there at the same time.

If you have questions about classes, registration, or joining OLLI, join us LIVE on the Party Line this morning (Thursday) until 11am, and then again between 1-2pm. See below to get the link. You can also call the OLLI office at 530-898-6679 or email olli@csuchico.edu.

Join the OLLI Party Line!

We are 100% committed to making sure that everyone who wants to can connect and learn in our new, virtual environment. In addition to the training tips and tutorials below, join us in our new, "always-on" Zoom meeting room! • Test out your computer, smart phone, or tablet • Connect with members • Get comfortable with Zoom • Available online 24-7! And OLLI Meet Up's 
are the place to be every Monday–Friday from 1–2 p.m. Staff and volunteers will join you on the Party Line to chat, answer questions, and troubleshoot just in time for summer classes! Just answer a few questions to get started!

Summer '20 Class Schedule

It's here! It's different! And we're SO excited! Enjoy browsing our new class catalog, with information on the new summer class formats, descriptions and peer leader bios for every class, and the registration form, of course.

• Download/View the Catalog (pdf)

• View the Class Schedule (online)

Virtual Summer Class Preview


We had 112 people online during our first-ever OLLI Virtual Summer Class Preview! We heard from seven guest presenters about their summer classes and details about how classes will take place in June. If you missed it live, here's a link to view the recording. We hope you'll watch!

• Watch the Class Preview Recording

Registration

Class Registration opens Thursday, May 21 at 9am.
Classes begin June 1.
Join OLLI or Renew Your Membership for Summer
Membership is required to participate in OLLI classes, activities, and events. If you're new to OLLI, you can get started by signing up and paying fees either online or with our mailable form.

Summer '20 Membership Fee: $75


Returning members can renew your membership online. You can also download and mail in a membership form. Don't remember or don't have your ID number handy? No worries! Just click the "ID Lookup" button when you log in to register for classes.

Not sure whether you've paid summer fees? Email or call the OLLI office at 530-898-6679 to confirm. You need to pay for the summer term before you can register for classes.
Zoom Zoom!
By now you've likely heard of Zoom, or even become a fan of its ability to let us connect with colleagues, friends, and family from a (social) distance. OLLI is using Zoom regularly for recording class presentations to share with our members and community; to hold live-online classes; to keep our advisory council and volunteers connected for planning and outreach; and more. If you're new to Zoom and are interested in participating in any live event, such as our upcoming VIRTUAL Summer Class Preview (details coming soon), here are some tutorials you will find helpful in learning this new technology. It takes a bit of getting used to but with a few minutes of practice you'll be Zooming in no time!

• How to Join a Zoom Meeting
• How to Participate in a Zoom Meeting
• How to Access a Class Meeting on Zoom (From Univ. of North Florida)
• Zoom Tutorial Video
Spring Classes Are Looking a Bit Different, But Learning Never Stops
Stay engaged with a library of recorded lectures available to OLLI members!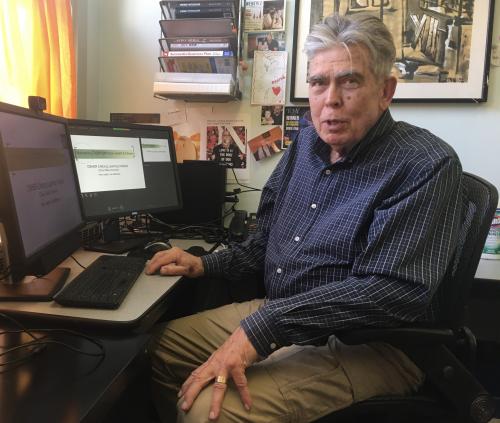 One of the most vital roles of OLLI is bringing people together. OLLI Chico is taking the lead in creating a national inventory of recorded lectures for all 200,000 OLLI members in the network to access. While there's no substitute for learning together, we hope this provides one small way to connect (virtually) during these uncertain times. We hope you enjoy our growing library of:
• Presentations & Lectures by OLLI Chico Instructors [View Library]
• Presentations & Lectures by Other OLLIs [View Now]
• Recorded Presentations, Lectures & Panels at CSU, Chico [View Library]
• Additional Online Learning Resources, Virtual Tours & Live Cams [View Library]
Virtual Annual Business & Town Hall Meeting
On April 28, forty people took part in the OLLI 2020 Virtual Business & Town Hall Meeting to learn more about key issues facing OLLI this year. This annual event offers members a forum for understanding how OLLI operates. Did you know, for example, that membership fees cover just 61% of OLLI expenses? Do you know the actual cost per member for running OLLI is $350, or that office volunteers alone have provided more than 2,500 service hours so far this year?

Program Director Ann Nikolai shared budget highlights from the 2019-20 fiscal year and reviewed the 2020-21 budget. She also addressed how OLLI is navigating the current pandemic, bringing lifelong learning to members in new and creative ways.

Following the budget review, Ann was joined by Dr. Janet Rechtman, a newcomer to Chico but not to Osher programs. Dr. Rechtman, whose background is in organizational management and planning, recently relocated from Atlanta, Georgia, where she consulted with OLLI at University of Georgia on strategic planning. She is volunteering her skills and expertise to help OLLI develop more long-range thinking and a contingency plan, and invited members who joined the call to participate in the conversation.

Knowing where we're going, and gaining member input along the way, helps ensure OLLI can deliver the types of programming that make it special. We invite you to watch recordings of the Business Meeting presentation, as well as the Q&A that followed.
Spring 2020 Schedule & Classes
Nearly 130 classes await you this spring! We have a terrific schedule of active, engaging, intriguing, and entertaining classes that celebrate a wide array of interests in history, literature, the natural and social sciences, fine arts, the great outdoors, and current events. In addition to browsing our online schedule, you can also download all of the schedule and membership information:

• The Spring '20 Packet or
• The Spring '20 Packet with Class Descriptions

Spring Fees ~ Join Today

Spring '20 & Summer '20 Bundle

• 2 Payments of $72.50 or
• Single Payment of $145

Spring '20 Only

• 2 Payments of $62.50 or
• Single Payment of $125

• To pay fees online in a single payment, log onto the OLLI membership site.
• To sign up online & pay fees in installments, please use this online form, download our membership form (pdf) or call the OLLI office at 530-898-6679.
• To join & pay fees by mail or in person, download our membership form (pdf)
A Brighter OLLI Is an Engaged OLLI!
OLLI serves a vibrant community of adults over 50 who are generally well-educated, active, engaged in life, and have disposable income. The generous gifts of our business sponsors support the cognitive and social benefits of OLLI, help us deliver excellent programming, and enable us to offer fee assistance to members who couldn't otherwise afford to participate. Thank you to our Business Sponsors!
• Altum Wealth Advisors • Harris & Plottel, Attorneys at Law • Chico Hearing Aid Center • California Water Service • North Valley Eye Care

• Chico Eye Center • Enloe Medical Center • Loeta Robles, DDS • Mark Womack, DDS • Chico Hospital for Cats • Tri Counties Bank •

Meet Your Match!

Volunteers are the backbone of OLLI at CSU, Chico. They provide instruction, communications, technical support, outreach, and help us make important social connections. Without volunteer support, OLLI Chico could not provide the array of lifelong learning experiences members enjoy year-round. The Volunteer Connections Program is designed to keep OLLI programming sustainable by expanding volunteer participation. Learning more about you—your skills and interests—will help us connect you to areas of need within the organization. Email us if you'd like to Connect Today.