Online Master of Science in Agricultural Education
Grow Your Career!
The online Master of Science in Agricultural Education is designed for those who want to advance their careers in secondary and higher education, community development, and training in professional organizations. It provides the knowledge and skills you need to be able to inform people about the importance of the agriculture industry and its many working sectors.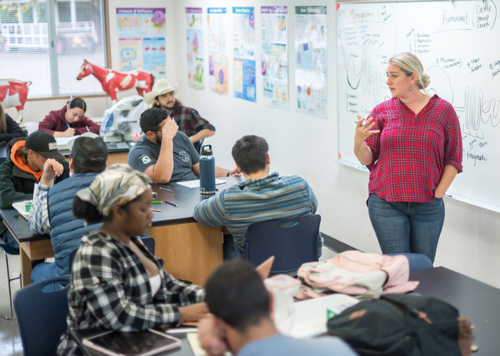 The online MS in Agricultural Education is a fully-accredited, graduate degree program offered through California State University, Chico College of Agriculture and AG IDEA, a national consortium of accredited universities offering courses in agricultural disciplines.
High Value, High Impact Education
Graduates of the program have advanced research skills and are prepared to design educational and training programs and lead diverse, interdisciplinary teams in efforts that positively influence the future of agriculture.
There are a range of professional opportunities available to Agricultural Education graduates, including many beyond traditional classroom teaching. Graduates of the program have gone on to fulfilling roles such as:
• Classroom teacher • Extension educator • Communications professional • Public relations specialist • Curriculum developer • Environmental educator • Trade association coordinator • Congressional staffer • Educational specialist • International agricultural development specialist • Program manager • Producer • Sales associate • Outreach coordinator • Professional development specialist
The AG IDEA Edge
Structured to fit seamlessly and conveniently into the schedule of working professionals, the Chico State / AG IDEA flexible, online master's degree enables you to balance career advancement with professional, social, and financial commitments. You choose, apply to, and will be awarded your degree from your home university.

As an AG IDEA online degree program, your courses are taught by faculty experts in agricultural education from eight reputable institutions nationwide. This benefit of the program increases your access to the leading theories in agricultural pedagogy, providing a unique and unparalleled online academic experience.
Curriculum
The Online MS in Agricultural Education is a 30-unit graduate program allowing up to 9 transfer units. The culminating activity can be in the form of a thesis, project, or exam.
Required Courses
AGED 600 Research Methodology in Agricultural Education
AGED 601 Program Planning in Agricultural Education
AGED 602 Instructional Methodology in Agricultural Education
AGED 610 Assessment in Agricultural Education
AGED 696 Comprehensive Examination or
AGED 699 Master's Project or Master's Thesis
Elective Courses (Up to 12 Units)
AGED 603 Agricultural Leadership, Supervision & Administration
AGED 604 Program Evaluation in Agricultural Education
AGED 605 Adult Learners in Agricultural Education
AGED 606 Instructional Technologies for Agricultural Educators
AGED 607 Agricultural Education Foundations, History, and Philosophy
AGED 608 Teaching Diverse Learners in Agricultural Education
AGED 609 Occupational Experience in Agriculture
AGED 697 Independent Study in Agricultural Education
Program Cost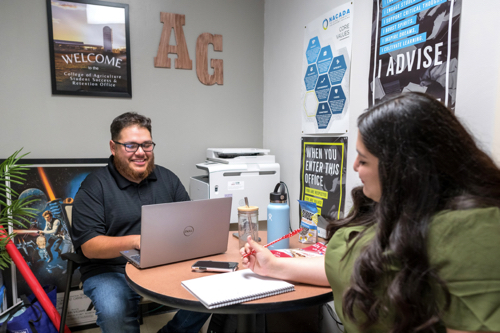 $600/unit + books
$12,600 with nine transferrable units
$18,000 with no transferrable units
Financial aid may be available
Advising, Application & Admissions
If you are interested in furthering your educational and professional experience through the online Master of Science in Agricultural Education, you are invited to contact the program advisor. She will review your transcripts and guide you through the admissions process.
Mollie Aschenbrener, PhD
E-mail: maschenbrener@csuchico.edu
Phone: 530-898-4568
For course and faculty information, program requirements, and the application process, visit Chico State College of Agriculture's Masters in Agricultural Education Website.
If you live outside of California, please verify our online programs are available in your state. There are approximately nineteen states where it is cost prohibitive for Chico State to offer online courses and degree programs.