BA in Religious Studies
Online Degree Completion Program at chico state
About the Program | Faculty & Student Video | Coursework | Apply | Advising
Religious Studies is the academic study of what religion is and how it shapes and is shaped by other cultural forces. Religion is increasingly recognized as a vital part of our individual and community identity, as a political force nationally and globally, and as both a source of conflict and a potential resource for healing social divisions. This compact and fully-online BA in Religious Studies degree completion program at Chico State—one of only four offered nationally—offers both deep knowledge of major religious traditions and comprehensive exploration of the role of religion in the contemporary world. In courses like Religion, Politics and Conflict; Religion, Sex, and Gender; Religion, Science and Technology; and the capstone course Religion, Public Life and the Professions, you will work closely with outstanding professors in small classes that will both challenge you and closely support your learning.
Why a Degree in Religious Studies?

Those who are employed in almost any field today—business, health care, education, law enforcement, social work, journalism, you name it—find themselves working with religiously diverse populations that they need to understand in order to be effective. A Religious Studies degree is clear evidence of the strong writing and critical thinking skills and multicultural competence that are sought by today's employers. When you complete this program, you'll be a well-rounded and educated problem solver, a fluent writer, and a person who can examine issues from many perspectives. You'll have significant technological and research skills; will be able to handle data interpretation and qualitative analysis; and be prepared to work effectively in challenging and culturally diverse settings. Your sensitivity to the ethnic, religious, and socio-economic identities that people bring to the table will be one of your strongest attributes.
Graduates of our program have gone on to successful careers in teaching, business (corporate and start-ups), law, health care administration, national security, high school teaching, not-for-profit administration, and higher education. Religious Studies majors are especially well-prepared for work in public service and public policy, international affairs, and non-profit leadership as a result of their global and cultural literacy and their ability to reflect on questions of meaning and value in complex social contexts.
Learn More from Faculty & Students in the Program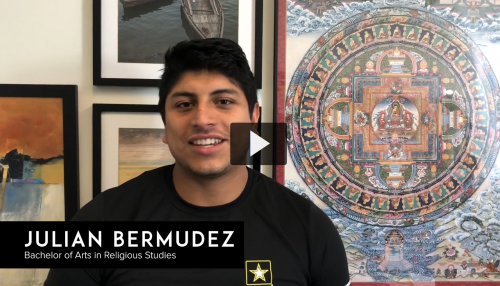 Coursework
Few BA degrees at the college level pack as much learning into their classes as this 34-unit major, which is designed optimally to be completed in four semesters along with all other required courses needed for a full college BA. This program is designed for the student who has at least 60 units of lower-division credit completed, and is looking to finish his/her college requirements and bachelor's degree. As a degree completion program, only junior- and senior-level courses are offered. Everything you need to complete your BA requirements in two years is offered in an online format. Majors courses may be viewed synchronously, where you can watch and participate in the live classroom lecture or asynchronously, with the ability to view or re-watch the lectures on your own 24/7 schedule.
In addition to the eleven course 34-unit BA in Religious Studies, our program will offer you nine units of upper-division general education (a Chico State requirement) and another seventeen units of upper-division elective coursework—all delivered exclusively online! If you bring to the program earlier coursework in religious studies—even at the lower division level—there is a chance that some of those units might count toward the completion of the major.
Here's what your program of study could look like:
Year 1: Fall Semester

• Religions of South Asia
• Religions of East Asia
• Roots of Judaism, Christianity, and Islam
• Two Electives

Year 1: Spring Semester

• Judaism, Christianity, and Islam since the Crusades
• Religion in America
• Religion and Nature
• Upper Division GE Course—Social Science
• Elective

Year 2: Fall Semester

• Religion, Politics, and Conflict
• Theories and Criticisms of Religion
• Religion, Science and Technology or Religion and the Arts
• Upper Division GE Course—Natural Science
• Elective

Year 2: Spring Semester

• Capstone: Religion, Public Life, and the Professions
• Religion, Sex, and Gender
• An upper division GE course—Humanities
• Two Electives
This schedule changes if you bring more than 60 transferable units with you, if you have some lower division religious studies coursework, or if you are able to take a fuller load of classes or register for summer classes. There are more courses offered some semesters than others, so planning is important, and our program advisors will help you with class scheduling.
Application Process
Students who meet Chico State admission requirements are eligible to apply to the Religious Studies Online program.
Application Periods:
• To start in Fall: Apply October 1–December 15
• To start in Spring: Apply August 1–September 30
Complete the Request for Information form in the sidebar for additional application and program information and to be notified about online information sessions.
• View complete application and admissions information.
Campus Contacts
Program Advising
Dr. Daniel Veidlinger
Professor & Chair, Department of Comparative Religion and Humanities
dveidlinger@csuchico.edu | www.csuchico.edu/corh
Campus Resources
Chico State Admissions & Course Transfer Information
www.csuchico.edu/admissions
www.assist.org
800-542-4426 or 530-898-4428
Financial Aid & Scholarship Office
www.csuchico.edu/fa | 530-898-6451
Transferring courses to CSU, Chico
http://www.assist.org
* The CSU makes every effort to keep student costs to a minimum.
Knowing the Cost of Attendance is important
because the budget helps determine your Financial Need and your financial aid award. Financial Need is defined as the difference between your Expected Family Contribution and the standard Cost of Attendance calculated for each academic year. For an estimated moderate standard of living budget, please refer to the
Chico State Cost of Attendance
.