California is the nation's leading agricultural producer by total receipts, generating over $50 billion in 2019, far exceeding the number two leading state of Iowa ($27.5 billion). By sheer size and productivity, California has significant potential to contribute to working lands conservation efforts.
However, climate change, diminishing soil health, low implementation of conservation efforts, and lack of knowledge and/or access to information, training, and assistance with systems-based agricultural management have left us less resilient and more vulnerable to economic and environmental threats.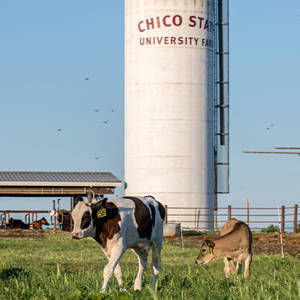 The Center for Regenerative Agriculture and Resilient Systems at Chico State has developed this four-course professional series to support the expansion of systems-based farm, ranch, and forest management practices on California working lands, and foster conversation and innovative, collaborative strategies to address current and future threats and opportunities for California agricultural production. The courses are:
Course Structure:
Fully online for flexibility and convenience
Lectures and coursework (5-6 hours per week) completed at your own time and pace
Weekly, one-hour live-online discussions with participants and faculty
Pass/No Pass quizzes to gauge your mastery of the content
Certificate of completion given at the end of each course
Fee: $650 per course
Curriculum
Participants can take any number of individual courses, or take all four to complete the series. Though the courses are not sequential, we do recommend beginning with course #1 as a foundation for future learning.
Systems Theory and Practice
Course Dates: Early fall '22
Faculty: Dr. Cynthia Daley [Bio]

An introduction to management approaches that focus on the interactions and synergies of ecosystem processes (energy flow, water and nutrient cycles, and community dynamics) to leverage the power of photosynthesis to improve water use efficiency and soil health across a variety of agro-ecosystems using appropriate production practices. [ Learn More ]

Topics Include:
Introduction to systems management: challenging paradigms.
Processes and principles: Introduction to agroecosystems and soil health.
Minimizing soil disturbance: no-till, strip-till and more.
The benefits of biomass: cover crops and crop rotation.
Biological applications: the link between soil, plants, and animals.
Annual cropping systems (row crop; pasture).
Perennial cropping systems (rangelands; orchards; vineyards).
Incorporating and managing livestock through adaptive planned grazing.
Agroforestry systems (timber and grazing).
Economic view of systems management: short- and long-term ROI
Conservation through partnerships: opportunities and engaging effectively
Soil Health Systems
Course Dates: TBA
Registration Deadline: TBA
Faculty: Dr. Garrett Liles [Bio]

Understand the connection between soil health and primary productivity and, ultimately, food and fiber quality. This course will cover soil properties, metrics of soil health, and influences of production practices and soil management systems (integrated practices) on these components. Soil sampling, analysis and interpretation are presented, along with monitoring strategies to ensure on-farm success. [ Learn More ]

Topics Include:
Basics of soil health: degradation and restoration.
Organic matter: the living, the dead, and the very dead part of soil.
Physical nature of soils: the what, where, and how of soil formation and loss.
Soils and plants: biological, chemical, and physical property influences on plant health.
Nutrient management: considering source, rate, time, and place when using livestock and plant waste to build soil health.
Irrigation technology and management strategies.
Soil testing and monitoring: what and when.
Science & Practice of Ecological Forest and Range Management
Course Dates: TBA
Registration Deadline: TBA
Faculty: Dr. Don Hankins [Bio]

Explore two complex and complimentary agro-ecological systems through sustainable management practices. Innovative and practical approaches to livestock grazing, timber production, wildlife habitat, fuels management and other fire prevention and fire recovery strategies for balanced management to support ecosystem and economic resiliency. [ Learn More ]

Topics Include:
History, science and policy of forest and rangeland management in the West.
High functioning ecological processes in well-managed forests: case studies from public and private lands.
Sustainable rangeland management: case studies from public and private lands.
Fire resiliency measures, methods & controlled burns in forest and rangeland ecosystems.
Fire recovery methods for land restoration incl. soil stabilization & improved water quality.
Grazing systems for working lands: processes, principles and practices.
Pollinators and wildlife habitat management.
Applied agroforestry and watershed management planning and design.
Applied management: sustainable rangeland and ecosystems planning and design.
Farm/Ranch Planning and Design
Course Dates: June 6-July 15
Registration Deadline: May 30
Faculty: Dr. Cynthia Daley [Bio]

This course supports the transitional process to a plan, implement, monitor, replan management framework that encourages producers and ag professionals to work through a systems lens that addresses economic success and improved land health. Participants will develop a vision that incorporates management goals, establish a land management plan, and identify metrics to quantify outcomes and reassess their plan annually. [ Learn More & Register ]

Topics Include:
Managing complex systems: establishing context to set goals with a vision.
Farm/ranch assessment: resources and inventories from the ground up.
Tools for enhancing resources within agroecosystems: a review of conservation practices and conservation effects.
Whole farm/ranch planning: enhancing resources and meeting goals.
The decision-making process: putting a conservation plan into action.
The carbon lens: evaluating a farm/ranch plan for GHG reduction and co-benefits.
Economic evaluation of farm/ranch plan.
Monitoring for adaptive management.
Program Faculty
Cindy Daley
Director and Co-founder of the Center for Regenerative Agriculture & Resilient Systems; Rawlins Endowed Professor for Environmental Literacy; Organic Dairy Program Supervisor; Professor College of Agriculture
Dr. Cynthia Daley is a professor within the College of Agriculture at California State University, Chico, and currently serves as the Rawlin's Endowed Professor for Environmental Literacy, and the Director for the Center for Regenerative Agriculture & Resilient Systems.

Cindy is originally from Illinois, where her family has been actively engaged in the farming profession for more than four generations. She completed her undergraduate degree at the University of Illinois, her doctorate at University of California Davis.

She joined the CSU, Chico College of Agriculture faculty in 1997 and founded the Organic Dairy Education & Research Program in 2006. Seeing the need to grow the ecological farming movement, Daley went on to co-create the Regenerative Agriculture Initiative in 2016 and guided the program to Center status in May of 2019.
Garrett Liles
Associate Professor of Agriculture at California State University, Chico.
Experiences at Chico State and in summer seasonal jobs were a springboard for Garrett Liles to seek a master's in soil and watershed sciences from University of Washington, Seattle studying headwater streams and the effects of forest management on stream and soil properties, and a PhD from UC Davis studying soil organic matter and the effects of disturbance and management on the terrestrial Carbon Cycle. Dr. Liles has a diverse professional work history including mapping the soils of Lassen Park for NRCS, analysis and planning of regional biomass to energy projects, and quantifying the effects of riparian restoration at the Cosumnes River Preserve, along with years of running chainsaws, building trails, and managing natural resources.

Garrett joined the faculty of the CSU Chico College of Agriculture in 2015 as an assistant professor of soil and plant science where he teaches across the spectrum of soil and ecosystem science while mentoring students to be critical thinkers and educated citizens.
Don Hankins
Professor of Geography and Planning at California State University, Chico.
Dr. Don Hankins has expertise is in the following areas: pyrogeography, ecohydrology, landscape ecology, intervention ecology, conservation, environmental policy and Indigenous stewardship. This expertise is applied to his courses in pyrogeography, water resources policy and planning, and nature and restoration. He has been involved in various aspects of environmental planning, stewardship, conservation, and regulation for a variety of organizations and agencies including federal and tribal governments.

Amongst other projects his current research includes longitudinal studies of fire effects on biodiversity, cultural resources and hydrology and overall environmental resiliency in riparian forests, oak woodlands, and meadows in California and Eucalypt and tea tree woodlands in the Cape York Peninsula, Australia. These projects involve working with local Indigenous communities in the respective areas in order to achieve a broader framework of collaborative stewardship and learning. Don has also been active in policy related to Indigenous stewardship particularly as related to fire and water management. He has a B.S. in Wildlife, Fish and Conservation Biology and a Ph.D. in Geography from the University of California, Davis.
Priya Tuvell
Program Manager for the Center for Regenerative Agriculture at California State University, Chico
Priya Tuvell has her Master's of Agriculture in Integrated Resource Management from Colorado State University, and an undergraduate degree in Animal Science with a Livestock/Dairy emphasis and Ruminant Nutrition Science minor from UC Davis. Her professional interests include regenerative and multi-species grazing management, ruminant nutrigenomics, and pasture-based ruminant nutrition.

Prior to joining the CRA Team, Priya has worked on various goat and cattle dairy farms, including managing an established organic dairy in the Central Valley, providing nutritional consulting to small niche creameries, and in the milking parlor of local, pasture-based dairies. Priya is also involved in the local livestock community through her membership of Butte County Cattlewoman's Association.

In her free time, Priya operates her own pasture-based diversified farm in North Chico with her husband, Michael. Together, they currently raise heritage breed chickens for eggs and Nigerian Dwarf Goats for show and milk production, with plans on expanding the farm in the future.
Mollie Aschenbrener
Professor and Lead Teacher Educator & Graduate Coordinator for the College of Agriculture, California State University, Chico
After teaching agricultural science at Paso Robles High School for eleven years, Mollie left to attend the University of Missouri. She completed her doctorate in agricultural education and my research interests include teacher education, creativity and effective teaching, and leadership. Mollie grew up in Oregon where she was very involved in the FFA program. After spending one year in the rain at Oregon State, she transferred to Cal Poly, San Luis Obispo, where she earned her bachelor's degree in agricultural business and my master's degree in agricultural education.