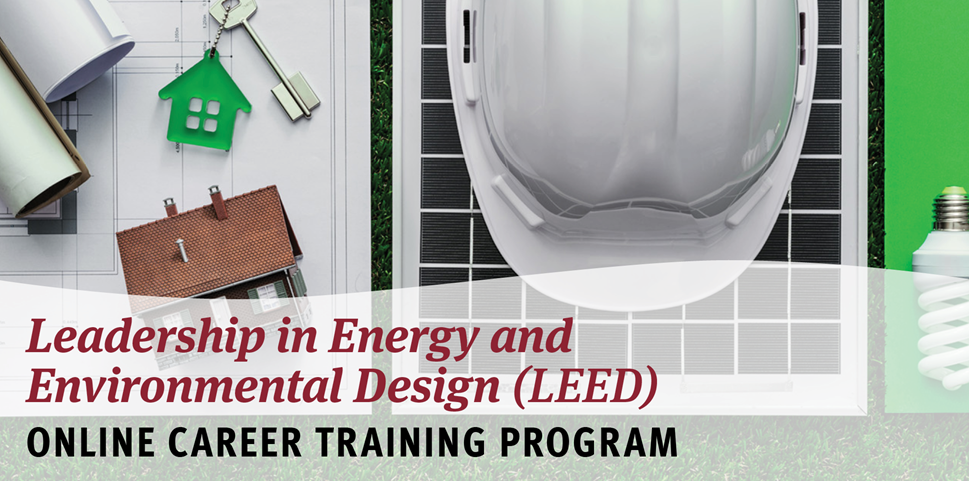 Job Outlook | FAQs | Course Objectives | Curriculum | Instructor
Become a LEED Green Associate
Leadership in Energy and Environmental Design (LEED) is the most widely used rating system for designing or verifying a building's or neighborhood's green features. In this 100% online course, you will learn the standards for green building practices for residential and commercial projects. Upon successful completion, you will be prepared for the LEED Green Associate Credential from the US Green Building Council (USGBC). Enrollment includes a voucher to cover the USGBC exam fee.

Job Outlook for LEED Professionals
According to the US Bureau of Labor Statistics (BLS), job opportunities for environmental scientists and specialists nationwide are expected to grow by 8% between now and 2029. This is much faster than forecast growth for all jobs.
BLS data also notes that the average salary of an environmental scientist is just over $71,000 per year. However, the median salary for electricians in the Chico Metropolitan Area is just over $80,000 a year.
LEED Professional FAQs
What skills do LEED Professionals require?

According to the USGBC, the LEED Green Associate certification process validates skills and knowledge across the green building process. Specific areas of study include:
• LEED Process
• Integrative Strategies
• Location and Transportation
• Sustainable Sites
• Water Efficiency
• Energy and Atmosphere
• Materials and Resources
• Indoor Environmental Quality
• Project Surroundings and Public Outreach

What trends are impacting LEED careers?

The US BLS cites a growing awareness of hazards facing the natural environment as a key driver in the growth of environmentally-oriented jobs. Demands placed on the environment by population growth, the availability of environmentally-friendly building materials and processes and lowered cost of ownership for green buildings all factor into favorable trends for LEED careers.

What job titles are associated with LEED professionals?

Many LEED Green Associate jobs carry construction-related titles such as project coordinator, project manager and architectural designer. In addition, green building-specific job titles may include:
• Sustainability Consultant
• Energy Engineer
• Energy Analyst
• HVAC Mechanical Engineer
• Sustainability Analyst
• Sustainability Manager
About the Online Training Course
Course Objectives
Understand LEED & the process of getting a building LEED-certified
Learn what is expected of a LEED Green Associate
Know what material to study and prepare for the LEED Green Associate Exam administered by USGBC
Be prepared to contribute to the health, safety, well-being, and productivity of the community at large by implementing best practices as it relates to sustainable design.
Accreditation can be a stepping-stone to new contacts and new opportunities for success in the green building and design fields
Learn the steps to implement more sustainable, eco-friendly, and energy-efficient practices
Designate your green building expertise with an internationally recognized credential
Prerequisites & Requirements
There are no prerequisites to take this course.

Curriculum
I. Introduction to Sustainability
II. Integrative Strategies
III. Introduction to LEED
IV. Location and Transportation
V. Sustainable Sites
VI. Water Efficiency
VII. Energy and Atmosphere
VIII. Materials and Resources
IX. Indoor Environmental Quality
X. Project Surroundings and Public Outreach
Instructor
Jean Cipriano
Jean Cipriano has been the principal of her own firm for over 25 years and has consulted on projects for major corporations and universities. She infuses her work with awareness and regard for the environment and applies this philosophy to the inhabitants of the buildings she designs. As a LEED AP, she has instructed adults in all aspects of interior architecture. Cipriano holds a bachelor's degree in Interior Architecture and is a member of ASID.
Registration and Enrollment
This course is 100% online. Start anytime.