In the Liberal Studies Program, you will receive a well-rounded education, preparing you for careers in various fields – education, business, government, social work, and more. As a future teacher, you will engage in coursework that provides you with:
A solid foundation for all the content areas you will be expected to teach
Hands-on experience working with K-8 pupils
Friendly and knowledgeable faculty in their discipline who are eager to support you through your journey to become a caring, well educated, dynamic teacher
An opportunity for depth of study in special education
Overview
The Liberal Studies Online Option is a degree completion program for students who plan on teaching elementary school or desire a broad-based degree. Upon completion of our program you will have a Bachelor of Arts degree. If you plan on teaching you will need to enter a credential program before you are ready to teach. At this time Chico State does not offer an online credential program.
Coursework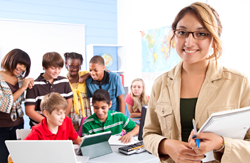 The General Education requirements for the Liberal Studies major are unique in order to meet California State Content Standards for K-8 Teachers. By completing the Liberal Studies major, students also satisfy General Education requirements. GE courses taken at other institutions may not meet Liberal Studies major requirements. All lower division courses and some upper division courses must be completed by taking approved equivalents at a community college or four-year institution. Check with a Liberal Studies advisor to determine which courses can be accepted.
Online students interested in the Liberal Arts Option will also complete the Liberal Studies specific General Education course work at a community college and take upper division course work online at CSU, Chico. In place of education related upper division courses, students may choose one of two minors available online: Career and Life Planning or Sociology.
Course Topics Include:
Perspectives in teaching
English for future teachers
Health education
Psychology in teaching
Social science spatial, temporal and cultural concepts
Math patterns & structures

View full curriculum
Application Process
Students who live outside of Chico and meet CSU, Chico admission requirements are eligible to apply to the Liberal Studies Online program.
The application period for spring 2023 is August 1-August 31, 2022.The application period for fall 2023 is October 1, 2022-December 15, 2022. If you would like to start in Fall 2022 please complete the Request for Information form in the sidebar for additional information
View complete application and admissions information.
Program Advising
Rena Marino, Advisor
530-898-5802 | lsonadv@csuchico.edu
Department Site: http://www.csuchico.edu/lbst