BA in Liberal Studies
Online Degree Completion Program
Liberal Studies is the major that prepares students for elementary school teaching in California. The Liberal Studies major is among the oldest and largest majors on campus and continues the longstanding historical tradition of preparing future teachers and teacher leaders for educational careers. As an interdisciplinary major, Liberal Studies students develop a strong knowledge base in multiple disciplines (English, math, science, history/social science, art, music, theatre, physical education, and psychology) and take courses with faculty who have expertise in these disciplines, many of whom have been recognized for their outstanding teaching abilities.
Overview
The Bachelor of Arts in Liberal Studies Online Option at Chico State is a degree completion program consistently ranked among the best online bachelor's in Liberal Studies programs. Students who complete an online BA in Liberal Studies are well prepared to enter Multiple Subjects credential programs with the goal of teaching in elementary, self-contained classrooms, and special education K-12 school settings. After completing a BA in Liberal Studies, students will need to complete a Multiple Subjects Credential Program in order to receive a teaching credential. At this time Chico State does not offer any online credential programs.
Coursework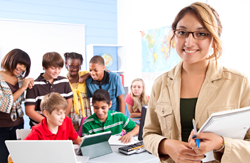 The General Education (GE) requirements for the Liberal Studies major are specific to the California State Content Standards for K-8 Teachers and the waiver for the Multiple Subjects California Subject Examination for Teachers (CSET) exam. Please be aware:
As a degree completion program, not all lower division courses are available fully online from Chico State. Additionally, GE courses taken at other institutions may not satisfy Liberal Studies major requirements at Chico State. Visit www.assist.org to view equivalencies at your California Community College.
Students who are transferring from other CSU's will be required to take at least 30 units from Chico State to meet the Residency Requirement for graduation.
There is no articulation between CSU campuses. Courses taken at other CSUs may not be required or transferable to Chico State.
Application Process
Students who meet Chico State admission requirements are eligible to apply to the Online Liberal Studies program.
Application Periods:
• To start in Fall: Apply October 1–June 1
• To start in Spring: Apply August 1–31
Complete the Request for Information form in the sidebar for additional application and program information and to be notified about online information sessions.
View complete application and admissions information.
Program Advising
Rena Marino, Lead Progam Advisor
Leanne Woods, Program Advisor
530-898-5802 | lsonadv@csuchico.edu
http://www.csuchico.edu/lbst
* The CSU makes every effort to keep student costs to a minimum.
Knowing the Cost of Attendance is important
because the budget helps determine your Financial Need and your financial aid award. Financial Need is defined as the difference between your Expected Family Contribution and the standard Cost of Attendance calculated for each academic year. For an estimated moderate standard of living budget, please refer to the
Chico State Cost of Attendance
.