MS in Agricultural Education Schedule & Registration
While classes are taught by faculty from a number of the AG IDEA schools, as a Chico State student you'll register for all courses through this website. You'll receive emails when registration opens each term and can then use the links below to register and pay fees. If you register for a course that is being offered by one of the AG IDEA schools, you will receive and email regarding course access from that campus coordinator.
How to Register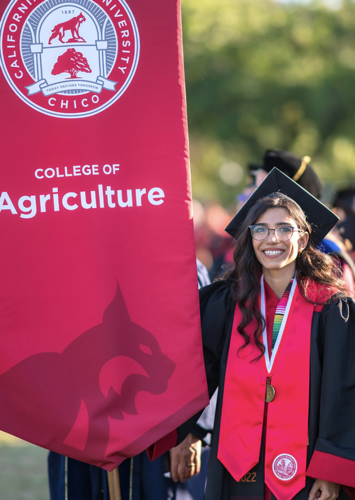 Click the Register link for each class you wish to enroll in below. On the course page, change the Registration Option to Online and then click Register Now to add the class to your cart.
If you wish to enroll in more than one class, after adding a class to your cart, use the back button to return to this page to add additional classes. Do not click "Continue Shopping."
Financial Aid Recipients
If you receive financial aid, register for all the classes you need to take in the upcoming term at the same time. If you need to add or drop courses, you will need to complete an Add/Drop form as required by the Financial Aid Office.
Graduate School Adjunct Enrollment GRST 899
As a master's student, you must be enrolled in a class(es) each semester until your degree is awarded. If you're unable to take a class during the fall or spring in your program for some reason, continuous enrollment may be maintained by registering in GRST 899: Adjunct Enrollment at this link.
Term
Course #
Course Title
Teaching Inst.
Units
Dates
Books/
Notes
Instructor
Registration Links
Fall 2023
AGED 600
Research Methodology
Chico State
3
8/21-12/15
TBD
Jessica Toombs
[Permission Required]
Fall 2023
AGED 601
Program Planning
Chico State
3
8/21-12/15
None
Mollie Aschenbrener
[Permission Required]
Fall 2023
AGED 602
Instructional Methods
Oklahoma State
3
8/21-12/15
TBD
Christopher Eck
[Closed]
Fall 2023
AGED 603
Ag Ldrshp, Supervision & Admin.
University of Arkansa
3
8/21-12/15
TBD
Jill Rucker
[Closed]
Fall 2023
AGED 605
Adult Learners
Oklahoma State
3
8/21-12/15
TBD
Jon Ramsey
[Closed]
Fall 2023
AGED 607
Ag Ed Foundation, History, & Phil
North Carolina State
3
8/21-12/13
TBD
Katherine McKee
[Closed]
Fall 2023
AGED 689
Graduate Internship in Ag
Chico State University
3
8/21-12/15
Mollie Aschenbrener
[Permission Required]
Fall 2023
AGED 689
Graduate Internship in Ag
Chico State University
6
8/21-12/15
Mollie Aschenbrener
[Permission Required]
Fall 2023
AGED 696
Comp Exam in Ag Ed
Chico State University
3
8/21-12/15
Mollie Aschenbrener
[Permission Required]
Fall 2023
AGED 696
Comp Exam in Ag Ed
Chico State University
3
8/21-12/15
Jessica Toombs
[Permission Required]
Fall 2023
AGED 696
Comp Exam in Ag Ed
Chico State University
3
8/21-12/15
Thomas Henderson
[Permission Required]
Fall 2023
AGED 697
Independent Study
Chico State University
1
8/21-12/15
Mollie Aschenbrener
[Permission Required]
Fall 2023
AGED 697
Independent Study
Chico State University
2
8/21-12/15
Mollie Aschenbrener
[Permission Required]
Fall 2023
AGED 697
Independent Study
Chico State University
3
8/21-12/15
Mollie Aschenbrener
[Permission Required]
Fall 2023
AGED 699P
Master's Project in Ag Ed
Chico State University
3
8/21-12/15
Mollie Aschenbrener
[Permission Required]
Fall 2023
AGED 699P
Master's Project in Ag Ed
Chico State University
6
8/21-12/15
Mollie Aschenbrener
[Permission Required]
Fall 2023
AGED 699T
Master's Thesis in Ag Ed
Chico State University
3
8/21-12/15
Mollie Aschenbrener
[Permission Required]
Fall 2023
AGED 699T
Master's Thesis in Ag Ed
Chico State University
6
8/21-8/15
Mollie Aschenbrener
[Permission Required]
Fall 2023
AGED 699T
Master's Thesis in Ag Ed
Chico State University
3
8/21-8/15
Jessica Toombs
[Permission Required]
Fall 2023
AGED 699T
Master's Thesis in Ag Ed
Chico State University
6
8/21-8/15
Jessica Toombs
[Permission Required]
Adds & Drops
Resources
• Special Session Add/Drop Policy & General Information
• Graduate Studies-Forms/Graduation/Commencement and other policies
• Meriam Library Services-Interlibrary Services/Research Guides
• Wildcat Bookstore-Textbooks/Clothing/Supplies
• Student Records-Transcripts
• IT Support Services
• Canvas Support & Guides
• Immunization Policy