Reading Programs for Children & Adults

Professional & Continuing Education partners with The Institute for Reading Development to offer live-online reading and study skills programs for all age levels. From beginner readers to older students and adults, The Institute for Reading Development instructors guide students as they learn the necessary skills to become successful readers and students. Each age group is taught specialized lessons online live with qualified instructors. More Information
Fall '22 Speed Reading & Study Skills Program for College Students
In just four class sessions, this online program will make you a faster, smarter reader and more effective student. You will save time, get more out of everything you read, and learn new strategies for academic success.

By taking this course, you will be able to read challenging material like textbooks and journal articles twice as fast. In easier material, such as nonfiction books and novels, you will read even faster. You'll learn ways to improve your comprehension, retain information, take effective notes, and prepare for tests and exams efficiently – all without extensive rereading.

Instruction for this course is provided by the Institute of Reading Development. The Institute has provided instruction through Professional & Continuing Education for the past 34 years, and also teaches for many other leading universities and colleges.

As a course participant, you will receive a free lifetime repeat privilege. The type of material you need to read will change or become more difficult throughout your college career. Your repeat privilege entitles you to retake this course and receive instruction in the specific techniques best suited to the material you are reading.

A variety of weekend and weekday schedules are available for busy students. Choose from classes in the morning, afternoon, or evening. This is the only Speed Reading and Study Skills program that will be offered this academic year. To register or receive more information, call 1-800-418-7910, Monday-Friday 6 a.m.–5 p.m. or Saturday 6 a.m.–2 p.m.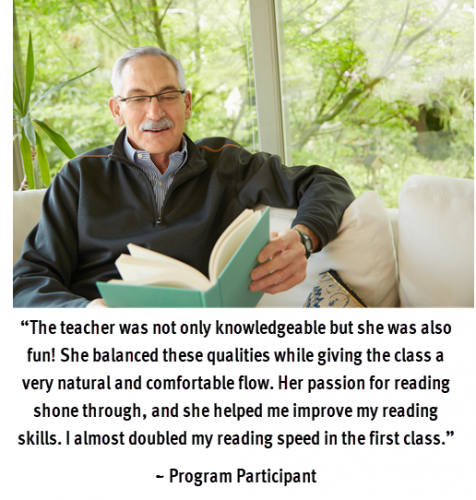 Programs presented in partnership with a third-party provider are not taught by Chico State faculty nor affiliated with a campus academic department. Courses offered with third-party providers are not degree-eligible.