Speech-language pathology assistants (SLPAs) work with supervising licensed and ASHA-certified speech-language pathologists (SLPs) to help children with communication disorders.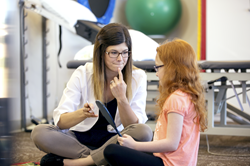 Chico State's Speech-Language Pathology Assistant Licensure Pathway is an intensive 10-unit, post baccalaureate licensure pathway that provides students with the clinical training and supervised fieldwork experience they need to apply for speech-language pathology assistant licensure.
The program consists of two courses: a three-unit online course (CMSD 500) that addresses the scope of practice and ethical standards for SLPAs followed by a seven-unit field experience (CMDS 501) in the student's own community/region. The field experience allows SLPA students to work with community speech-language pathologists in a variety of settings to complete the required supervised direct patient contact hours for California State SLPA licensure.
Program Overview:
• The synchronous online course will take place in summer.
• Field placements will occur in fall.
• Program fees are $4,000*
Eligibility
As specified by the California state licensing board, applicants must hold a bachelor's degree in speech-language pathology or communication disorders, with a minimum 3.0 GPA.
Application
If you'd like to be notified when information about our 2023 program is available, let us know using the form on this page and we'll be in touch.
Required information includes academic work from higher education institutions, clinical work and observation hours (optional), resumé including employment history, and references.
Coursework
CMSD 500–Roles & Responsibilities of the Speech-Language Pathologist Assistant
Description: This online course covers the roles and responsibilities of the speech-language pathology assistant (SLPA). Students who complete this course will learn about the scope of practice of the SLPA, ethical considerations, liability issues, educational and training requirements for the SLPA, supervision of the SLPA, state and federal laws and regulations, and reimbursement.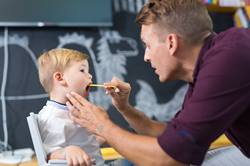 Instructor: Amy Simmons
Dates: Mid-June 7–Mid-August, 2023 | Live online meetings on Tuesday & Thursdays, 4-7pm
Course fee: $1,200 (3 units x $400/unit)*
CMSD 501–Field Experience: Speech-Language Pathologist Assistant
Description: Students will complete a 265-hour field experience, with a minimum of 100 direct client contact hours necessary to effectively work as a licensed speech-language pathologist assistant (SLPA). The field experience will expose students to clinical documentation, staffing responsibilities (i.e. attending IEP meetings, team conferences, and staff meetings), lesson planning, therapy preparation, and therapy delivery under the supervision of a licensed SLP supervisor.
Successful completion of this course (and CMSD 500) will allow the student to apply for a California SLPA license.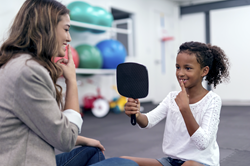 Eligibility: Students who have successfully completed CMSD 500 and are ready to participate in the field experience necessary to attain a speech-language pathology assistant (SLPA) license in the state of California.
Instructor: Amy Simmons
Dates: August 21–December 15, 2023
Course fee: $2,800 (7 units x $400/unit)*
* Course fees and dates subject to change. Federal loans or financial aid are not available for this program. Other options,
such as loans
, may be available.