** Regional & Continuing Education is working remotely until further notice. You can contact us via
phone
and
email
M–F, 8 a.m.–5 p.m. For additional information, read the campus'
COVID-19 News & Information
. **

Online Business Fundamentals & Career Training Programs

Regional & Continuing Education, in partnership with ed2go, offers online, non-credit bearing open enrollment programs designed to provide the skills necessary to grow your skills and acquire professional level positions for many in-demand occupations. Each program is designed by a team of professionals from each respective field, who work to provide you with an effective web-based learning experience.
Personal & Professional Skills Building
We offer a wide range of highly-interactive offerings that you can take entirely online. They are available as self-paced tutorials or classes led by expert instructors, many of whom are nationally-known authors. Our online courses are affordable, fun, fast, convenient, and geared just for you. Learn new skills in the areas of:
Arts and Design • Business • Computer Applications • Computer Science • Construction and Trades • Health and Fitness • Hospitality • Information Technology • Language • Legal • Math and Science • Teacher Professional Development • Test Prep • Writing
Browse the catalog and get ready to take your skills to the next level.
FREE* Healthcare Career Exploration Courses
Employment of healthcare occupations is projected to grow 14 percent from 2018 to 2028, much faster than the average for all occupations, adding about 1.9 million new jobs. Healthcare occupations are projected to add more jobs than any of the other occupational groups. This projected growth is mainly due to an aging population, leading to greater demand for healthcare services. (Source: U.S Bureau of Labor Statistics)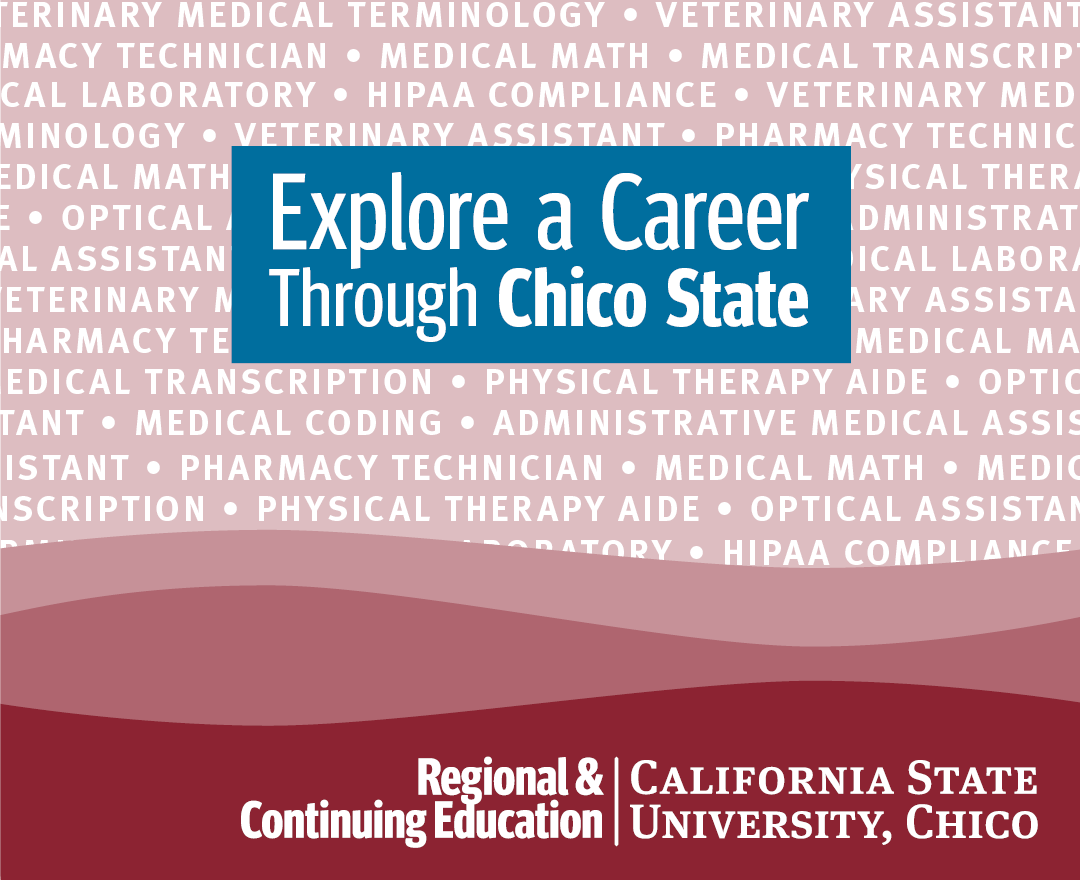 In support of our community during these uncertain times, ed2go and Regional & Continuing Education are pleased to offer a promotion on healthcare training tutorials. If you're considering a career change or looking to learn in-demand skills, our online healthcare career exploration courses provide an opportunity to find the right fit.
* Enroll in a select self-paced class and if you decide that a related career training course is for you, we'll apply your original fee toward it!
Explore a Career in Medical Transcription • Become an Optical Assistant • Explore a Career in Medical Coding • Explore a Career As an Administrative Medical Assistant • Introduction to Medical Laboratory • HIPAA Compliance • Become a Veterinary Assistant • Explore a Career as a Pharmacy Technician

Career Training Programs
In our career training programs, you'll receive in-depth information and instructors/mentors are actively involved in your online learning experience. They respond to any questions or concerns, as well as encourage and motivate you to succeed. Each program includes a set of lessons and evaluations; grades are a combination of the instructor/mentor's evaluation of students' work and computer graded tests. We know you'll appreciate the quality as well as the convenience of anytime, anywhere learning! A certificate of completion will be provided. Explore available courses to expand your career opportunities in:
Whether you're seeking a career in the health sector or want to earn a fitness certification, these online training programs can help you start or advance a rewarding career in helping people lead healthier lives.

Explore programs in: Dental, Fitness, Medical, Veterinary and Wellness

Start your career in IT with foundational understanding of the industry. If you're an advanced professional, prepare for in-demand IT certifications, to advance your career.

Explore programs in: Networking, Cloud Computing and Security

Online graphic design and web design programs make it easy for you to learn new skills or transition to a new career.

Explore programs in: Animation, Graphic Arts, and Web Design

Online management training and business skills programs can help you enter a new career field or advance your current skillset.

Explore programs in: Accounting, Administration, Communication, Marketing and Sales, Operations, Project Management and Small Business

The convenience of online construction training allows you to learn new concepts and skills at your own pace and in the comfort of your own home.

Explore programs in: Environmental and Energy, Construction and Trades

Whether you want to earn Microsoft certifications, learn QuickBooks, or even Photoshop, these online training programs can help you achieve your goals.

Explore programs in: Autodesk, Microsoft and Quickbooks
Military Spouse Career Advancement Account Scholarship
Helping Spouses Pursue Higher Education
The MyCAA Scholarship is a workforce development program that provides up to $4,000 of tuition assistance to eligible military spouses. The scholarship helps military spouses pursue licenses, certificates, certifications or associate degrees necessary to gain employment in high demand, high growth portable career fields and occupations. Spouses may use their MyCAA funds at any academic institution approved for participation in the MyCAA Scholarship.
Check your MyCAA eligibility if you think you qualify MyCAA Factsheet Overview. You can also go to MyCAA Website to establish a MyCAA Account and start the process.
Programs presented in partnership with a third-party provider are not taught by CSU, Chico faculty nor affiliated with a campus academic department. Courses offered with third-party providers are not degree-eligible.
* As a professional development program that does not culminate in a degree or teaching credential, this program is not available for federal loans or financial aid. You may, however, be eligible for other options, such as loans.