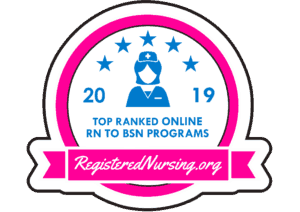 According to the Bureau of Labor Statistics, employment of healthcare occupations is projected to grow 18 percent between 2016–2026, much faster than the average for all occupations, adding about 2.4 million new jobs. Healthcare occupations are projected to add more jobs than any of the other occupational groups. Yet California has a critical shortage of nurses prepared at the appropriate levels to meet the state's health care needs. The CSU, Chico School of Nursing has developed the RN—BSN Program as a primarily-online degree program that offers flexibility and convenience for the working nurse, including nurses in distant communities, who have seven-day-a-week, around-the-clock, work schedules.
The CSU, Chico BSN for RNs Offers...
A reputation of excellence. The graduates of the School of Nursing at CSU, Chico are highly regarded by hiring agencies, and by their peers and clients. The RN-BSN program is fully accredited by the Commission on Collegiate Nursing and the California Board of Registered Nursing.

Expert faculty who are committed to teaching and to nursing practice. The faculty are masters and doctoral prepared clinicians, active professionally in a wide range of clinical settings, in publishing, in the use of computers in nursing, and in research. Your education will reflect the cutting edge of the future of nursing.

Flexibility. The RN-BSN program is designed to accommodate the needs of the working RN and to recognize the skills the practicing nurse has already acquired. Twenty units of credit are issued for passing the NCLEX during the final semester of the program. Course requirements are scheduled to accommodate work schedules.

Cost and convenience. Most RNs continue working while progressing through the RN-BSN program. Local hospitals have encouraged and facilitated the RN returning to school and often provide partial reimbursement. CSU, Chico registration fees are much less than at most private colleges and external degree programs.

State of the Art Resources. CSU, Chico combines a beautiful campus, charming small town living, cultural events, outdoor recreation, and state-of-the-art technology to provide the optimum in education and living. CSU, Chico has been singled out nationwide for its innovation and pioneering efforts in the use of technology in education.
Current Program Schedule

Class registration and/or drop requests are processed through Regional & Continuing Education (RCE).
• Winter Session & Spring class registration begins November 1
• Summer class registration begins April 1
• Fall class registration begins July 1

Register online using the links below by clicking the course you want in the Term/Registration column, or contact RCE at 530-898-6105 or rce@csuchico.edu. More about Adds, Drops & Refunds.
If you wish to enroll in more than one class at a time, use the back button to return to this page to add additional classes to your cart. Do not click "Continue Shopping."



Course

Course Number

Units

Term/Registration link

RN to BSN Bridge Course
NURS 300
4
Summer
Academic Writing for Nurses
NURS 310
2
Summer
Public Health Theory (Check with Janet Ellis to confirm which section)
NURS 477
3
Summer - Prosser, S
Summer - TBA
Practicum Community Health (Check with Program Advisor to confirm which section)
NURS 478
3
Summer Section I - Kralj, H
Summer Section II - Kajla, A
Summer Section III - Prosser, S
Summer Section IV - Walter, M
Summer Section V - Ducore, S
Nursing Informatics
NURS 316
3
Fall - [Closed]
Nursing Research
NURS 342W
3
Fall - [Closed]
World Religion & Global Issues
RELS 332
3
Fall - [Closed]
LGBTQ Issues & Identities
MCGS 310
3
Winter - [Register]
Leadership Management & Professional Issues in Nursing
NURS 420W
4
Spring - TBA [Register]
Spring - Ottem, R [Register]
Professional Values & Ethics in Nursing
NURS 427


2
Spring - Kipnis, G [Register]
Spring - Kajla, A [Register]
CSU, Chico COVID-19 vaccination status policy.
Students should submit their vaccination status (or request an exemption) via the Student Center by clicking "Covid 19 Vaccination" in the Student Records menu.
Using the form, you will indicate whether:
•you have been vaccinated and upload a picture of your vaccine record
•you qualify for a medical or religious exemption
•you do not plan to access any campus facilities or participate in any in-person activities
Students should complete the form as soon as they are fully vaccinated (or know they plan to pursue an exemption) so we can begin verification. View detailed instructions on how to submit your vaccination status.
Program Requirements
Program requirements for the major: 50 units. Completion of the following courses, or their approved transfer equivalents, is required of all candidates for this degree:
MCGS 310 LGBTQ Issues & Identities (USD) (3 units)
NURS 300 RN to BSN Bridge Course (4 units)
NURS 310 Academic Writing for Nurses (2 units)
NURS 316 Nursing Informatics (3 units)
NURS 342W Nursing Research (3 units)
NURS 420W Leadership Management & Professional Issues in Nursing (4 units)
NURS 427 Professional Values & Ethics in Nursing (2 units)
NURS 477 Public Health Theory (3 units)
NURS 478** Practicum in Community Health Nursing (3 units)
RELS 332 World Religion and Global Issues (GC) (3 units)

*Writing proficiency (WP) course for the major **Public Health clinical course. Attempts are made to place students in agencies close to where they live, but such placement is not guaranteed.
For More Information
Robbin Guynn
RN Advisor for the School of Nursing
530-898-2862 | rguynn@csuchico.edu
Application Process
• Please do not apply to the University until you have been accepted into the program. To begin the program acceptance process, review all information on the School of Nursing website.

• Apply online after acceptance into program.

• Application fee is $70.
Fees & Registration
• Per unit fee is $415 (fees subject to change)

• Special Session Fees are due at the time of registration

• Non residence fees do not apply.

• Withdrawal, contact the RN/BSN Advisor and RCE.
Financial Aid
For additional information about the program, visit the School of Nursing website.