Chico State RN-BSN Program
FULLY-ONLINE COURSEWORK • ON-SITE CLINICAL PLACEMENTS
Are you an ADN nurse looking to advance your education through a baccalaureate degree in nursing and improve your career options? Are you looking for rewarding work that is dynamic and challenging, with opportunities to enhance your nursing career and become a leader in the field? You can make a difference in the health care field!
The Health Care Community Needs YOU!
The RN–BSN Program at California State University, Chico is an online advanced placement program for working RNs and new graduates who have completed an Associate's Degree in Nursing. With fully-online courses and on-site clinical placements near where you live or work, the Chico State School of Nursing, the RN-BSN Program was designed with flexibility and convenience for the working nurse, including nurses in distant communities, who have seven-day-a-week, around-the-clock, work schedules.
The RN-BSN Program Offers...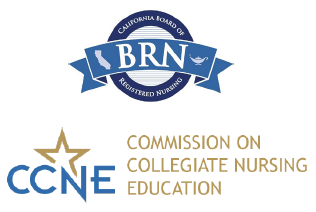 A reputation of excellence. The graduates of the School of Nursing at Chico State are highly regarded by hiring agencies, and by their peers and clients. The RN-BSN program is fully accredited by the Commission on Collegiate Nursing and the California Board of Registered Nursing.
Expert faculty who are committed to teaching and to nursing practice. The faculty are masters and doctoral prepared clinicians, active professionally in a wide range of clinical settings, in publishing, in the use of technology in nursing, and in research. Your education will reflect the cutting edge of the future of nursing.
Flexibility. The RN-BSN program is designed to accommodate the needs of the working RN and to recognize the skills the practicing nurse has already acquired. Twenty units of credit are issued for passing the NCLEX during the final semester of the program. Course requirements are scheduled to accommodate work schedules.
Cost and convenience. Most RNs continue working while progressing through the RN-BSN program. Local hospitals have encouraged and facilitated the RN returning to school and often provide partial reimbursement. Chico State registration fees are much less than at most private colleges and external degree programs.
"When considering a BSN program, look for a curriculum that will enrich your current knowledge base, which is what I found in the RN-BSN Program at Chico State. The instructors are very supportive and the program really helped me grow in my leadership by forcing me to consider patients wholistically as humans—social status, sexual orientation/ preferences, etc.—beyond just their health status, which impacts our interactions as healthcare providers."

Karen Orbeta, 2020 RN-BSN Graduate
Apply to the Program
We accept applications October 1–February 15. Prospective students must attend an academic advising session, complete the transcript evaluation process, and apply to the program. Applicants in their final semester of their ADN program or those still attempting to pass NCLEX and secure employment as an RN may be admitted to the program conditionally. For complete details on admission requirements and qualifications, and to begin the program acceptance process, visit the RN-BSN Program website.
Jump Start Option
Prospective students may take one or both of the two required Upper Division General Education classes—RELS 332 World Religions & Global Issues and MCGS 310 LGBTQ Issues & Identities—before being admitted to the RN-BSN program. This option lets you take only two fall semester courses instead of three, and no courses during Winter Session, as well as earn priority admission points.
Registration for these online classes is through Chico State Professional & Continuing Education. Admission to the University is not required.
• During fall & spring, enroll through Open University at openu.csuchico.edu.

• During summer or winter, visit summer.csuchico.edu and winter.csuchico.edu.
These upper division GE courses are waived for students who already have a bachelor's degree when they enter the RN-BSN program. Talk with a program advisor before registering.
For More Information
Robbin Guynn
RN Coordinator for the School of Nursing
RN-BSNEmail@csuchico.edu

Melissa Cheatham
RN-BSN Program Advisor
530-898-4638 | mcheatham@csuchico.edu