Not everyone wants to be a coder, and that's ok. In fact, there are 7X more professionals in "codeless" occupations, such as Digital Marketing, Sales, Business Ops, and many more. These individuals need new digital skills, too, including the technical know-how and experience to manage today's most powerful cloud-computing software applications.

Prepare Yourself for In-Demand "Codeless" Careers
In partnership with GreenFig, who designs programs that center around data and technology to prepare learners for today's in-demand codeless jobs, our 10-week professional certificate courses combine experiential learning from industry experts with business application software and practical experience to deliver the skills and credentials employers seek.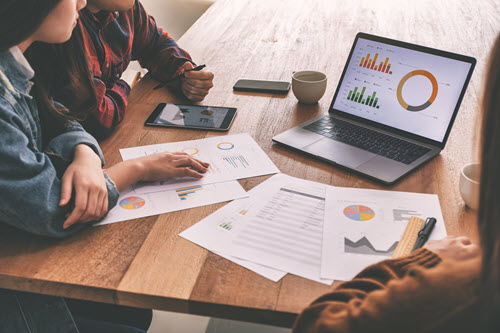 Courses are delivered fully online and combine self-directed (asynchronous) learning with live (synchronous) sessions. Mentors guide you through a curriculum in which you will:
• Complete flexible, on-demand learning, including videos, articles, examples, quizzes and assessments
• Participate in live/online interactive group sessions led by mentors or subject matter experts
• Receive training and certifications in the most in-demand software applications
• Complete a strategic playbook for a real-world company
Professional Certificate Courses
Fast-track your career in this comprehensive Digital Marketing Science certificate course, which provides practical training and technical certifications that you can apply on the job. This course will transform you into a complete digital marketer with expertise in the most in-demand marketing domains. Learn More


A LinkedIn Report conducted in late 2019 ranked Business Analysis amongst the Most In-Demand Hard Skills of 2020 along with analytical reasoning. Delivered fully online, our Business Analytics Science certificate course, featuring the Tableau Desktop Specialist Certification, is taught by industry experts and covers the key knowledge areas required to be effective at leveraging data to answer business questions and guide company strategy. Learn More
New Programs Coming Soon!
Sales Operations Science • Sales Development Science • Growth for Small Business


These programs are offered in partnership with GreenFig, a silicon valley based market-driven education company that delivers innovative programs to prepare learners for the demands of today's economy.