ElderCollege is a great way to explore new disciplines and enjoy learning for the joy of it! The ElderCollege program gives people over 60 the opportunity to sit in any regular university course on a space-available basis with instructor approval. Participation through ElderCollege is only for personal benefit and no official record of enrollment, attendance, or grade is recorded on a student's transcript.
As a guest in the course, you'll gain the knowledge you desire without required homework! If you wish to do assignments and take tests, just request permission from the instructor. You may attend any number of classes in a given semester for a set fee, and it includes eligibility for a library card and an email account.
ElderCollege has been suspended due to changes in the University class schedule and other COVID-19-related impacts.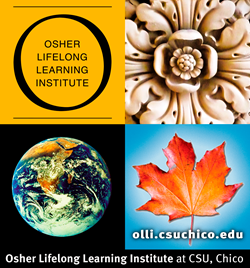 In the meantime, we welcome you to take a look at the Osher Lifelong Learning Institute (OLLI), which is offering 50+ virtual classes this fall. Most will be held live-online via Zoom, and cover a range of topics in history, language, politics, literature, and more. We're also offering the popular CSU, Chico Faculty Lecture Series. You can view the schedule, membership details, and information about our online fall class preview at olli.csuchico.edu.
If you have any questions, please contact Continuing Education at rce@csuchico.edu.