ElderCollege
ElderCollege is a great way to explore new disciplines and enjoy learning for the joy of it! The ElderCollege program gives people age 60 and older the opportunity to sit in on any regular university course on a space-available basis with instructor approval. Participation through ElderCollege is only for personal benefit and no official record of enrollment, attendance, or grade is recorded on a student's transcript.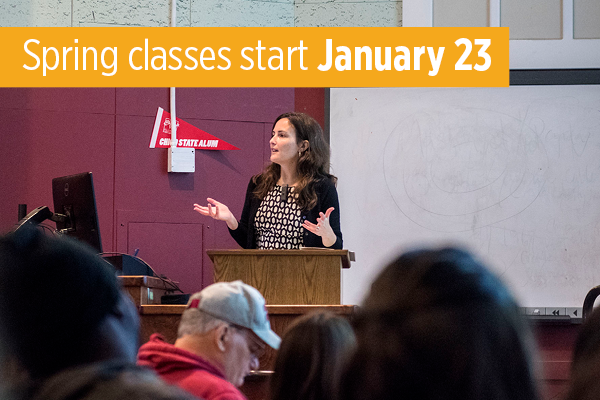 As a guest in the course, you'll gain the knowledge you desire without required homework! If you wish to do assignments and take tests, just request permission from the instructor. You may attend any number of classes in a given semester for a $75 fee, which also includes eligibility for a library card and an email account.
Request an ElderCollege Class
To take advantage of this opportunity, (1) review the instructions linked below, (2) select classes from the online Chico State schedule, and (3) complete and submit an ElderCollege class request form.
COVID-19 Vaccination Status Policy
Participants should submit their vaccination status (or request an exemption) via the Student Center by clicking COVID-19 Vaccination in the Student Records menu.
Using the form, you can indicate whether:
• you have been vaccinated and upload a picture of your vaccine record
• you qualify for a medical or religious exemption
• you do not plan to access any campus facilities or participate in any in-person activities
Participants should complete the form as soon as possible so we can begin verification. View detailed instructions on how to submit your vaccination status.