The mission of the Chico State Center for Entrepreneurship (CFE) is to provide support for students and recent alumni to build their own businesses.
The Center aims to help students move beyond the classroom, remove the barriers to success, and pave the way for a successful business launch. Each semester CFE hosts a variety of competitions and events to challenge students and expose them to real-world ideas. In addition, successful entrepreneurs come to campus to speak about their experiences.
More information is available on the Center for Entrepreneurship website.
Chico State Center for Entrepreneurship
Distinguished Entrepreneurship Panel Discussion
Michael Rehg, Director of the Center for Entrepreneurship at CSU Chico, invited local entrepreneurs to speak with Chico State business students. Among the panel was Shelby Chase, founder of HRIQ, Arielle Danton, founder of Beber Almond Milk Inc., Eli Libby and Kyle Nelson of Results Imagery, and finally, Logan Wilson of The Stogan Group. These Chico-based entrepreneurs share their triumphs, losses, and incredible stories that come with starting a business. One message was very clear from this group; join Chicostart if you want to make that leap. They have the resources and mentors to help guide you through your first steps in starting a business. Presentation Time: 52 minutes | View Now
Vito Palermo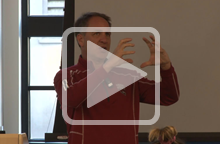 Vito Palermo
Managing Director, 38 Degree Advisors
CSU Chico Alumnus, Vito Palermo, engages with business students to share what he has accomplished as a business executive across networking, communications, and digital media industries. He has advised venture capital, venture debt, private equity funds, and Fortune 500 companies on buyouts, incubation strategies, and investments. Vito focuses on companies that enable enterprise transformation, virtual marketplaces and the consumers' digital lifestyle by leveraging the global communications and digital media infrastructure. People interested understanding venture capital and working for a start-up will find this presentation informative and fascinating. Presentation Time: 1 hour, 4 minutes | View Now
Changing the Game: Uncharted, RISKY and Rewarding
Jamie Pardi
Entrepreneur
Jamie Pardi, a Chico State alumni, walks us through his life timeline, from being an involved member of a fraternity, captain of the Men's Lacrosse Team to joining student government, Pardi proves his leadership involvement tendencies as early as college. Working in investment banking taught him that he wanted to be at the top, rather than working under others day in and day out. He obtained a Masters in Entrepreneurship and set out to open his own company. Running various sports tech companies taught him a lot about launching a venture-backed business on his own. He provides tips and advice for building your career and being a successful entrepreneur. Presentation Time: 45 minutes | View Now
Overcoming Barriers: Breakthrough and Create Exponential Business Growth
Prem Chand
Founder and and CEO of Growth Factors
Prem Chand grew up on a farm, working hard and selling produce as a kid. This gave him a drive for success. He started his own company which quickly grew. Chand reveals some of the biggest challenges and obstacles in growing his international company. He focuses on high performance culture, marketing, and data-driven operations. He gives advice on strategies to build your own brand, identity, and personal success. Presentation Time: 52 minutes | View Now
Jeff Spence: Living the Life of an Entrepreneur
Jeff Spence
Entrepreneur & CSU, Chico Alum
During his time as a CSU, Chico student, Jeff Spence earned bachelor's degrees in physics and electrical engineering, and also set records running for the track team. But what he's done since then spurred organizers of the Chico State Center for Entrepreneurship to choose him as the keynote speaker of their annual conference. Since his college days, Spence has founded 11 companies and invested in approximately 40 others. Spence defines entrepreneurship as having a focus on a goal. More than that, he emphasizes, it's the pursuit of a goal – and there's often failure to overcome along the way. But Spence tells his audience not to be timid and to keep the pursuit going. Presentation Time: 54 minutes | View Now