Each semester, the CSU, Chico Office of Diversity and Inclusion presents several lunchtime Conversations on Diversity and Inclusion that are open to the entire campus community. Many subjects have been covered over the years and have included information about – and the concerns of – people of various ethnicities, veterans, the poor, people with physical disabilities, the mentally ill, GLBTQ people, and many others. The gatherings provide a safe space for members of the campus community to consider the often sensitive issues around identity. In providing this forum for the many voices on campus to be heard, it is hoped that, through education and acceptance, there will be more enlightenment, understanding, and acceptance.
Conversations on Diversity & Inclusion
To Stonewall and Beyond: Reconsidering a Landmark of 20th Century LGBTQ History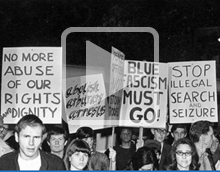 Dr. Robert Tinkler
History Department
CSU Chico
Those that pay attention to LGBTQIA+ rights movement, as well as others, know the importance of the Stonewall Riots and what happened at the Stonewall Inn in June 1969. What most people have not considered is its context in United States history and continuing effects. Dr. Robert Tinkler emphasizes this was not the beginning of the LGBTQIA+ movement, nor did every person have the same political agenda. They were simply tired of being harassed by the police - like has recently been seen with the Black Lives Matter movement, following Trayvon Martin and the Ferguson Missouri Riots. Presentation Time: 1 hour, 17 minutes | View Now
How to Talk to and About People Who Have Been to Prison
Dr. Michael J. Coyle
Faculty, Department of Political Science & Criminal Justice, CSU, Chico
With 2.2 million people in prisons and jails in the United States and more than half a million people released each year, it is likely that most people know or will come in contact with people who have been incarcerated. Dr. Michael Coyle first provides some data about who goes to prison, data that shows black and Latino men incarcerated at a much higher rate than other groups. He notes the negative terminology used to describe those who have been incarcerated and presents several ideas for a different approach: separate harms/danger from revenge/hysteria; point to structures and not individuals; as no different from us; as people targeted for incarceration; and as targets of a society defined by white supremacy, abusive power structures, and capitalism. Presentation Time: 57 minutes | View Now
Are Black Churches Dead?
Pedro Douglas
Associate Vice President of Student Affairs, CSU, Chico
Rev. Robert Morton
Administrator, Student Conduct, Rights & Responsibilities, CSU, Chico
The roots of churches in the black community run deep. The speakers start their presentation by relating the history of black churches. The first such congregation was started in Philadelphia in 1787 by black Christians who felt marginalized when they attended white churches. The church developed further in the antebellum south, attended by many former slaves. Both speakers are members of the Bethel African Methodist Episcopal Church (AME) in Chico – "African" symbolizes heritage, "Methodist" indicates the theology of John Wesley, founder of Methodism, and "Episcopal" describes the church's leadership structure. Today, the speakers note, black churches struggle with attendance and some critics argue that they have lost their prophetic voice, which has been fueled by their view of Jesus Christ as liberator. The speakers also discuss church attitudes toward LGBT people. However, they feel the black church can still have a role in society. Presentation Time: 50 minutes | View Now
Another PATH We Walk: The Foster Youth / Unaccompanied Homeless Youth Experience
Marina Fox
Program Coordinator Foster Youth Program
Angelica Lopez
Moderator, MSW Intern & Peer Coach
PATH Scholar Panel:
Aaron Alston-Roth, Diana Garcia, Jessica Gonzales, Sarah Simpson, PATH Scholars
As Foster Youth Program Coordinator Marina Fox points out, former foster youth and "unaccompanied homeless" minors are resilient, determined and have high potential. In a panel discussion, four students in the PATH (Promoting Achievement through Hope) Scholars program describe their Foster Youth experience before they arrived at the University. They have all overcome daunting obstacles, and they explain what has worked for them at the University in the hope other students such as them can benefit. Presentation Time: 44 minutes | View Now
How to Talk About Class in Our "Classless" Society
Dr. Nathaniel Heggins Bryant
Faculty, English Department, CSU, Chico
Early in his presentation, Dr. Nathaniel Heggins Bryant states, "The longer I've worked on class and labor issues in general, the more I realize that we in this country have always had a class problem." He feels that class problems in the United States are not acknowledged and not talked about. Dr. Bryant looks into national values that are connected to class – upward mobility, the American dream, a "nobility" in hard labor, and the notion that if people are in poverty it is a temporary state due to their bad choices. He and his audience then engage in a discussion about these issues. Presentation Time: 46 minutes | View Now
Nurturing & Negotiating Free Speech in a Digital World
Facilitated by Susan Wiesinger, Mark Plenke, & Stephen Caldes
Faculty, Journalism & Public Relations Department, CSU, Chico
Is freedom of speech also freedom from speech? Digital technology has helped create a world where those who challenge our beliefs can be blocked, isolating us from opinions we don't agree with. Appreciation of diversity and true inclusion, however, results from welcoming and hearing other perspectives. This presentation is a discussion about how to open up conversations and listen when someone else's free speech encroaches on our deeply held values. Presentation Time: 51 minutes | View Now
Aging is the New Normal
Dr. Seema Sehrawat & Dr. Celeste Jones
Faculty, School of Social Work, CSU, Chico
Demographics are changing dramatically, in the U.S. and globally, as Baby Boomers (people born from approximately 1945-1964) retire and become "senior citizens." As Dr. Sehrawat and Dr. Jones explain, aging is not simply a story of higher numbers. "Boomers" are being transformative and breaking the social norm. They are not letting age define them, and they view "later life" as power years and a time of possibilities. The presenters emphasize that an aging society is about all ages. Presentation Time: 55 minutes | View Now
Moving Men of Color Forward
Malcolm J. McLemore
Coordinator, Fraternity and Sorority Affairs, CSU, Chic
One of the goals of the system-wide California State University Graduation Initiative is to close the achievement gap in graduation rates between Underrepresented Minority (URM) and non-URM students by 2025. In this presentation Malcolm McLemore shows a short video that illustrates, through national statistics, some of the challenges that men of color face in order to get a college education. He then presents data specifically about men of color at Chico State. McLemore lists ways to assist these students through mentorship from faculty/staff men of color, peer advisors, leadership development, and institutional support. A discussion follows about how to help male students of color achieve their full potential. Presentation Time: 47 minutes | View Now
The Undocumented Student Experience at CSU, Chico
Student Panel
Isabel Albino, Paola Esparza, Edger Gutierrez, Gerson Palacios, Dilan Pedraza, Angella Terres Toral
With the passage of the California Dream Act, immigrant students who were brought to the United States as children without documentation may now apply for campus scholarships and institutional grants. Other legislation has made life easier for these students, such as the law that keeps eligible students from paying nonresident tuition at California public colleges and universities. But these advances have been hard-fought and a long time coming. Do we really know and understand the hardships undocumented students overcome to obtain a higher education? In this Conversations on Diversity and Inclusion session, we learn about the obstacles that our very own CSU, Chico undocumented students continue to overcome on a daily basis. Hear first-hand about the experiences of these students and learn the truth behind the myths heard in the news media. Presentation Time: 50 minutes | View Now
Race and America's Prison Industrial Complex
Dr. Jesse Dizard
Faculty, Anthropology Department, CSU, Chico
Dr. Jesse Dizard starts his presentation by noting that there are 4,575 prisons in the United States – this is four times more than Russia, the country with the second-highest number of prisons. The cost of running these prisons is staggering, and an increasing number of them are run by private, for-profit companies rather than by the government. Dr. Dizard shares statistics that illustrate the over-representation (in contrast to their percentage of the U.S. population) of Hispanic and black inmates, both as part of the prison population and as death row prisoners. He concludes that it is difficult to ignore or overstate the enduring effects of racism in the American prison system. Presentation Time: 51 minutes | View Now
Does Size Matter? Reflections on Weight Based Stigma & Discrimination
Dr. Michelle Neyman Morris
Faculty, Nutrition & Food Science Department, CSU, Chico
Dr. Michelle Morris calls dieting "a national pastime," and points out that the weight-loss market is worth $61 billion annually and that the #1 New Year's Resolution, according to the New York Times, is to lose weight. Dr. Morris expresses concern about the pitfalls of a health paradigm that is focused on losing weight, as a person's physical, social, and economic environments can all contribute to health problems. Not only that, but obese people face some of the same elements of oppression that other marginalized groups face, including threats of violence, blaming the victim, stereotyping, cruel jokes, and workplace discrimination. Numerous negative media images, especially those that depict weight gain as a character defect, further the stigma faced by people who are considered "overweight." Presentation Time: 48 minutes | View Now
Women Who Served: Their Stories of Struggle, Sacrifice, and Success
Panel Discussion:
Annabel Grimm, United States Navy
Meghan Monokian, United States Coast Guard
Hannah Williamson, United States Army
Autumn Gainer, United States Army
Facilitator:
Donna Smith, Office of Diversity and Inclusion and United State Air Force Veteran
Women veterans who are CSU, Chico students share their personal journeys of serving in the United States military. From recruitment to transitioning back to civilian life, they provide a candid look at their experiences. Their stories include difficulties such as sexual harassment and being forced to sign forms stating they were not homosexual, to more positive experiences. The women finish the program by talking about skills they learned in the military that they brought with them to college and to civilian life as a whole. Presentation Time: 53 minutes | View Now
Cultural Dialogues: Serving Chinese Students at CSU, Chico
Panel Discussion
CSU, Chico Faculty, Staff, and Chinese Students
Shortly after Dr. Baohui Song, faculty in the CSU, Chico School of Agriculture, came to the U.S. in 2001, he went to Burger King to buy a hamburger. The person waiting on him said they didn't have "a hamburger" there. After some discussion, the worker said, "Oh, you want a Whopper!" It was just one illustration of the "culture shock" international students often experience. In this recording, a panel of CSU, Chico Chinese students discusses some of the experiences they have had since coming to the U.S. The students explain the many differences between the Chinese and American higher education systems, and also how they work to overcome language barriers. As one student notes, "The English we learn in China is not the English used here." The students also share why they decided to study at Chico State. Presentation Time: 53 minutes | View Now
Income Inequality in America
Dr. Susan Roll
Faculty, CSU, Chico School of Social Work
Dr. Roll begins her presentation with the question, "Is America the 'Land of Opportunity'?" She goes on to examine why there is an increasing income inequality in the U.S. Regarding public perceptions of wealth, Dr. Roll shares data from a socioeconomic class survey by the Pew Research Center. Among the results: only 43% of those polled felt that wealthy people got that way because of their own hard work, ambition or education, while 46% said the wealth came from knowing the right people or being born into wealthy families. Presentation Time: 41 minutes | View Now