Where Will Your Education Take You?
Passport to Learning offers CSU, Chico students, as well as students from other universities, the opportunity to travel and learn in unique, short term, faculty-led study abroad programs offered during winter and summer. Developed by dedicated faculty and designed to enhance your educational experience, these programs are exciting ways to experience the language, culture, and people of the host country while earning credit toward your degree. Get ready to discover your Passport to Learning!
Study Abroad Programs
Due to the COVID-19 outbreaks around the world, closures of borders, and the dire situation that many countries find themselves in, the CSU, Chico Study Abroad Advisory Committee has determined that unfortunately we must cancel faculty-led study abroad programs. Faculty have invested much work on developing these amazing educational opportunities to enrich the student experience and contribute to their fields of study. We are disappointed for all involved and sincerely hope to be able to offer these programs in future summers.
Take a look at the feature article in Inside Chico State!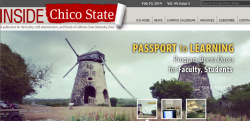 Faculty: How To Set Up a Program
For more information please contact Regional & Continuing Education at rce@csuchico.edu or 530-898-6105.