Cross-Cultural Leadership Center - "Passing on the Legacy" Series
The Cross-Cultural Leadership Center at CSU, Chico values and respects the richness and understanding that diversity brings. The Center exists to create an environment in which all students, regardless of their ethnicity, culture, or differences, feel safe and respected. Through leadership development, cultural awareness, community education, and the creation of constructive change, the Center's goal is to contribute a positive, enriching, and memorable life experience to every student of CSU, Chico and its surroundings.
The presentations below are from the center's higher education speaker series, "Passing on the Legacy." Senior management professionals from throughout the University speak about their career journeys in order to pass on information and to mentor students who aspire to careers in higher education.
First Generation to PhD: People, Programs, and Policies on the Path
Dr. Michelle Neyman Morris
Professor, Department of Nutrition and Food Science, CSU, Chico
Dr. Michelle Neyman Morris brings us on her journey from a first-generation college student to earning her PhD and navigating a path to success. Learn about the privilege, gratitude and mindful practices that helped her shape her journey. From not wanting to leave home to go to college to the life lessons learned about biases and shifting identities to skills development and meeting the people, programs, and policies along her path, Dr. Morris shares her insight into her journey in the world of higher education. Presentation Time: 56 minutes | View Now
Required Social Skills to a Successful Career
Scott Claverie
Director, Computing & Communications Services, CSU, Chico
Scott Claverie explains how he has built his successful career, utilizing social skills from his earliest work endeavors to his current position. He also shares the behavior and beliefs he has adopted over time. Scott describes some of the tools he has used to build personal and professional relationships. This insightful presentation is often humorous and always engaging. Presentation Time: 43 minutes | View Now
How Did I Get Here & Where Did the Time Go?
Chris Malone
Associate Director, Equal Opportunity Program, CSU, Chico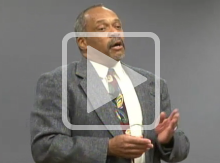 The Educational Opportunity Program (EOP) began at CSU, Chico 45 years ago. EOP Associate Director Chris Malone has been with the program for 34 of those years. With humor and passion, he tells his story. Malone describes his childhood in South Central Los Angles and how, as a student at UCLA, he drove to Chico to spend a weekend with a high school friend and decided to transfer to Chico State to play football. But Malone got more from Chico State than football – he graduated with a degree in psychology, did graduate work, and ended up mentoring hundreds of other first-generation college students from disadvantaged backgrounds. Presentation Time: 50 minutes | View Now
Connecting the Dots
Dr. Paul Zingg
Former President, CSU, Chico
Early in his presentation, Dr. Paul Zingg, CSU, Chico's President from 2004 to 2016, states that "connect the dots" is a metaphor he uses frequently to describe his career. When he read E.M. Forster's novel, "Howards End," 40 years ago, something the protagonist said struck him and has continued to guide him: "Only connect the prose and the passion." He traces his career in higher education, from graduate student to history professor to his current position. Along the way, he had some interesting experiences, including having Dean Rusk (former Secretary of State under President Kennedy) as his grad school mentor and sharing tea with Libyan Colonel Muammar Khadaffi in his tent (as part of his research for his dissertation). As for "connecting prose with passion," he has written numerous books about the history of sports. Presentation Time: 56 minutes | View Now
Finding Oneself Along the Road of Yes and Even NO!
Dr. Kathy Kaiser
Sociology Faculty, CSU, Chico
Dr. Kathy Kaiser's response to a contract which suddenly and unexpectedly arrived in the mail was—where is Chico? She had forgotten that she had applied! But she accepted, sight unseen, beginning a long career as a member of the CSU, Chico Sociology Department faculty. It hasn't been only teaching that has kept Dr. Kaiser busy since her arrival in Chico. She became a distance runner and helped coach the CSU, Chico track team. She has been active with the campus Academic Senate, which resulted in her becoming the first female Faculty Trustee on the CSU system Board of Trustees. Later, she was elected to the Board of the Chico Unified School District. Her life has continued to evolve, including going to sea aboard an aircraft carrier and extensive travel abroad as an educational ambassador. Through her talk she encourages others to "explore together the adventure of finding oneself—at any age! Presentation Time: 44 minutes | View Now
From the Mountains of Puerto Rico to the Hallowed Halls of Chico State, a Journey of Success
Luis Caraballo
Assistant Vice President, Facilities Manaement, CSU, Chico
Luis Caraballo was born in Puerto Rico and raised between two mountain communities in the Cordillera Central of the island. In this presentation, he answers the question, "What do you get when you take the country boy off the island?" His adventures took him to the College of William and Mary, Lewis and Clark Law School in Portland, and the Kennedy School of Government at Harvard University. Before coming to CSU, Chico, Dr. Caraballo had a long and successful career in the public sector in Oregon, which included over a decade in the Office of the Governor. In addition, he has served as a local elected official. Presentation Time: 48 minutes | View Now
Attitude is Everything
Kim DuFour
Interim Director, CSU, Chico Academic Advising Programs
Kim DuFour has worn many hats in her 30 years at CSU, Chico – from serving as the first-ever Director of CAVE (Community Action Volunteers in Education) starting in 1981 to her current position in Academic Advising. As she looks back over that time, she keeps going back to the importance of "attitude," which she defines as how people respond to challenges. Her story includes a lot of humor and perseverance, and a lot of examples of how to help students grow beyond their comfort zones and develop their skills. One of her campus positions was in Student Activities, helping organize special events. From this time period, she tells an entertaining story about the night Billy Idol played a concert in Acker Gym! Presentation Time: 51 minutes | View Now
A Journey of Success
Charles "CC" Carter
Director, CSU, Chico Cross-Cultural Leadership Center and Director, Center of Student Life and Leadership
CC Carter has worked at CSU, Chico since 1980; in addition to his current position, he has worked in the Student Activities Office, Office of Judical Affairs, and Athletic Department. But little in his early life indicated he would have a long, successful career in higher education. He grew up in the low-income Western Addition neighborhood of San Francisco, raised by a single mother who was born in Japan. As a child who was half black and half Japanese, he faced prejudice from the white, black, and Japanese communities. At age 13, his mother died, and he spent his teen years in three different foster homes. In part due to his athletic ability and the Equal Opportunity Program (EOP), he ended up in Chico. There he found a supportive community and, because of help from that community and his own determination to succeed, he thrived. Carter presents to students the principles he learned along his journey that they can use to help them succeed. Presentation Time: 41 minutes | View Now
Embracing Your Inner Mentor
Dr. Pat Patterson
Counselor, CSU, Chico Counseling and Wellness Center
Dr. Patterson grew up in the inner city, in East Los Angeles. When he was in third grade, his teacher told his mother that he couldn't read. But he did learn to read, and he enrolled in a private Catholic high school. When he was about to graduate, he asked for a college recommendation from the priest, who wrote, in essence, "Aldrich Patterson will never make it at your university." Dr. Patterson then went to UC Irvine and "begged to be let in." He was admitted, and his life turned around, thanks to a series of excellent mentors, including Dr. Joe White, the first licensed black psychologist in California. He also made connections with the Association of Black Psychologists. He went on to earn a PhD in psychology from the University of Maryland. He has now mentored many students during a 30-year career at CSU, Chico. As Dr. Patterson tells his inspiring story, he emphasizes his gratitude to his many mentors – or, in the words of the pledge of Men of Honor, an organization for black male students that he helped start at Chico State, "We are here today because we stand on the shoulders of the people before us." Presentation Time: 54 minutes | View Now
One Day at a Time: Lessons Learned from Years of Experience in Education
Dr. Bradley Dodson
Faculty, College of Agriculture, CSU, Chico
Dr. Dodson manages the teacher education program in the College of Agriculture and has been involved in many youth leadership programs. In this presentation, he shares lessons from working in the field of education for over 30 years and discusses decisions he made along the way. Dr. Dodson also talks about what he considers cornerstones of building a career: doing well, having compassion, maintaining hope, and striving for stability. Presentation Time: 41 minutes | View Now
Leading Without Authority
Bob Sprague
Faculty, Department of Management, CSU, Chico
Mr. Sprague believes leadership can come from anyone in an organization, not just the designated "directors" or "managers." He interacts with his audience as together they come up with ways to define leadership and recognize the important leaders that have influenced their lives. Mr. Sprague presents common themes in defining leadership, including hope, collaboration, conceptualization, change, action, and influence. He then goes on to explain different kinds of leadership, and defines formal and informal authority. Presentation Time: 45 minutes | View Now | Handout - Case Studies
7 Strategies to Impactful Leadership
Dr. Maurice Bryan
Associate Director of Student Judicial Affairs, CSU, Chico
Dr. Bryan offers experiences and lessons learned from 40 years in higher education to help students with building their own careers. He maintains that anybody can be a leader, regardless of their "position." Dr. Bryan then lists – and provides practical examples of – seven leadership strategies: 1) be prepared for opportunities; 2) own your own self-esteem; 3) acquire a body of skills; 4) promote yourself and your team; 5) be a resource to your staff, your supervisors, and your university; 6) Seek out and observe role models, and; 7) lead with heart. Presentation Time: 49 minutes | View Now
How to Manage Your Career When You Have Absolutely No Idea
Dr. Pedro Douglas
Associate Vice President for Student Affairs, CSU, Chico
Dr. Douglas describes his career journey, from a New Jersey high school student with no plans to attend college to earning his bachelor's degree, working at Merrill Lynch, directing student health centers at two East Coast universities, and finally to his current position at Chico State. As Dr. Douglas tells his story, he illustrates how key decision-making, mentoring, and networking helped him along the way. He also explains how he was able to earn a master's degree and a doctorate degree as his career developed. Sprinkled through his talk are humorous anecdotes, as well as unforeseen twists and turns. Finally, Dr. Douglas encourages students to step outside of their "comfort zones" and try new things, even if it means a geographical move. Presentation Time: 53 minutes | View Now