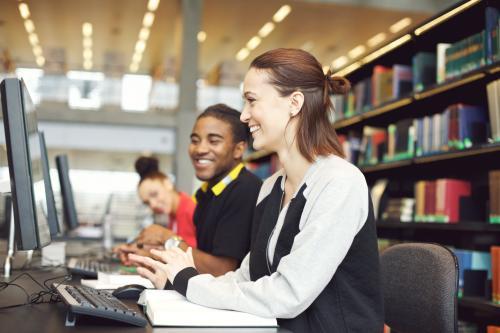 CSU, Chico Regional & Continuing Education's test prep programs offer serious preparation for important college and graduate school standardized exams. Classes were designed by a team of former standardized-test-item writers and test-preparation experts. Experienced and professional instructors are highly trained and care about your success.
All Test Prep Classes Include:
• Extensive classroom or online instruction
• Experienced, dedicated instructors
• Comprehensive preparation materials, including actual questions and practice tests from the test-makers
• Thorough presentations and explanations
• Convenient access to our team of experts
• Flexible in-person and online schedule options
• Access to online support resources
Courses
SAT—Get Ready for College
The SAT is a pre-college admission test that is required by many colleges as part of a student's application. It is also a factor in determining scholarship offers. The test measures verbal, quantitative, and reasoning skills that students learn in their high school college-prep classes. Prepare for this important test with our SAT Prep Classes!
ACT—Improve Your Score
The ACT is a pre-college admission test that is an important factor in determining admissions status and scholarship eligibility at many schools. It tests quantitative, verbal, and science reasoning skills. Maximize your confidence and your score with our ACT Prep Classes!
GRE—Advance Your Degree
Seeking a graduate degree? The GRE® General Test measures critical thinking, analytical writing, verbal reasoning, and quantitative reasoning skills that are acquired through academic experience and are not related to any specific field of study. The GRE is required for a large variety of master's degree and doctoral degree programs. Master's in Education (ME), Social Work (MSW), Nurse Practitioner (NP), Business, and Public Administration programs often require or accept the GRE® General Test. Prepare for GRE success!
GMAT—Pursue Your MBA
Are your sights set on an MBA or other advanced business degree? The GMAT business school entrance exam provides business schools with common measures of applicants' preparedness for graduate-level academic work. Our GMAT test prep course helps you prepare to shine in the exam's four assessments: analytical writing, integrated reasoning, quantitative reasoning, and verbal reasoning. Polish up your GMAT exam skills today!
LSAT—Pave the Way to Law School
Pursuing a law degree? The LSAT® is a standardized test that is administered several times per year. Our LSAT test prep classes are precisely scheduled to help you prepare for your preferred test date. Take the mystery out of the LSAT and get the tools you need to succeed on test day! Take the next steps toward your law degree today.
What Sets Our Test Prep Courses Apart?
Expert Instructors: Our test-preparation instructors are highly trained professionals who care about helping you achieve your goal.

Proven Strategies: The curriculum was developed by test-prep experts, who have years of experience writing exam questions and preparing students for success.

Superior Materials: Each course includes the official test preparation guide, including practice tests and a course workbook.

Online Support: Our online support package includes access to recordings of all class modules, an instructor-monitored question forum, and online office hours. Access to online resources continues for 30 days after your last day of class, so you will still have support for your independent practice after class is over.

Convenient Schedule Options: In-person test prep classes are conveniently held on the Chico State campus. The "live-online" format provides alternative schedules and the added benefit of taking the class from anywhere in the world.

Value: The course fee includes all course materials, access to online resources, and instruction from a trained professional who cares about your success.