Primary tabs
** Regional & Continuing Education is working remotely until further notice. You can contact us via
phone
and
email
M–F, 8 a.m.–5 p.m. For additional information, read the campus'
COVID-19 News & Information
. **
OLLI Summer Class Registration Opens

Thursday, May 21, 2020 - 9:00am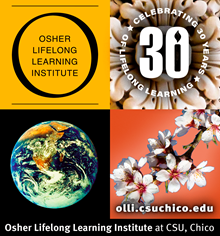 Let the registration rush begin! Online registration for OLLI's summer term will open promptly at 9am on Thursday, May 21, and previously-mailed registrations will also be processed at this time. Some classes fill quickly so we recommend reviewing the schedule and planning your courses in advance. If you need to join OLLI or pay summer membership fees, you can do that ahead of time, too.
Download our Summer Catalog for all of the schedule, calendar, and membership forms and information, or browse our online schedule of summer classes.
Unsure of what classes you should register for? Attend our Virtual Summer Class Preview online on May 14 from 10–11am.
More information can be found on the OLLI website or by calling the OLLI office at 530-898-6679.