Scholarship Gives Single Mom Support to Succeed
Tuesday, December 8, 2020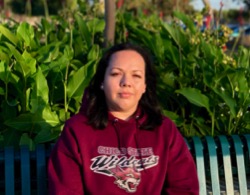 A single mother with her sights set on earning a bachelor's degree, Veronica Ramirez Nievez weighed her options. Working multiple jobs while also caring for her mother, the 35-year-old Los Angeles resident required flexibility so that she could pursue her studies after work.
After researching programs that best fit her schedule, Nievez chose distance learning through Chico State's Regional & Continuing Education—and in May, the first-generation student earned her coveted sociology degree.
"This bachelor's degree has given me hope and has helped prove to myself, and to my son, that even though there are tough times and obstacles along the way, with hard work and determination you can reach your goals," she said.
Read more of her inspiring story in Chico State Today.
Story by Sean Murphy, photo courtesy of Veronica Ramirez Nievez.
Submitted by mamcgowan on Tue, 12/08/2020 - 12:08pm