Forensic Archaeology:
Field Recovery Methods, June 3–7, 2019
This intensive, five-day course will cover applications of archaeology, anthropology, and forensic science to the location and recovery of human remains from outdoor scenes.

Lectures and presentations will cover:
Methods for locating and mapping surface finds of human remains
Search strategies for locating clandestine graves
Archaeological methods used for excavating, documenting, and interpreting grave sites
Supplemental course material will include lectures on forensic anthropology, the recovery of burned remains from fire scenes, interpreting taphonomic events, and the role of archaeology and forensic anthropology in larger scale investigations.

The first two days of the course will entail both lecture and workshops. The outdoor portion of the course (final three days) addresses practical applications for the search, location, and recovery of human remains from both buried and surface contexts through simulated outdoor forensic scenes.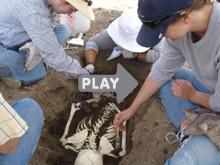 Participant Requirements
and Enrollment:
All excavation and required materials will be provided. Bring a compass if you have one.
Enrollment in this course is based on the permission of the faculty director, Dr. Eric Bartelink. If you are interested please send an email to ebartelink@csuchico.edu indicating your desire to enroll in the class. Include your name, university or employment affiliation, anthropological coursework, and/or forensic related experience in the email.
Cost: $625
The deadline to register is Tuesday, May 21.
Schedule:
Monday, June 3 ~ Lecture Day
8am-5pm, Plumas 117

8am-12pm
Introduction to the workshop, forensics, archaeology and case studies
12-1:30pm
Lunch (bring own or go downtown)
1:30-5pm
Human vs. nonhuman and taphonomy workshops

Tuesday, June 4 ~ Lecture Day
8am-5pm, Plumas 117

8-11am
Locating and assessing graves
11am-12pm
Excavation and recovery methods, chain of custody
12-1:30pm
Lunch (bring own or go downtown)
1pm-2:30pm
Introduction to survey and mapping techniques
2:30-5pm
Evidence photography

Wednesday, June 5 ~ Field Day

8am-5pm
Meet at Plumas 117, outdoor simulation of surface mapping and compass techniques (Lunch: bring own or go downtown)

Thursday & Friday June 6-7 ~ Field Days

8am-5pm
Meeting location TBA; outdoor simulation of survey techniques and excavation of remains. Bring a bag lunch, sunscreen and water.