Fees, Grants & Financial Aid
Fees
Winter Session fees are $302 per unit.*
Registration requests are not complete until fees are paid.
Winter Session Grants Closed-No longer accepting applications!
$550 need-based grants are available to help you make Winter Session part of your degree plan. To be considered for a grant, you must:
Be an admitted CSU, Chico student
Have a '18-'19 financial aid application on file
Be PEL Eligible with an Expected Family Contribution of $5,486 or less
Be enrolled in 3 or more units in Winter Session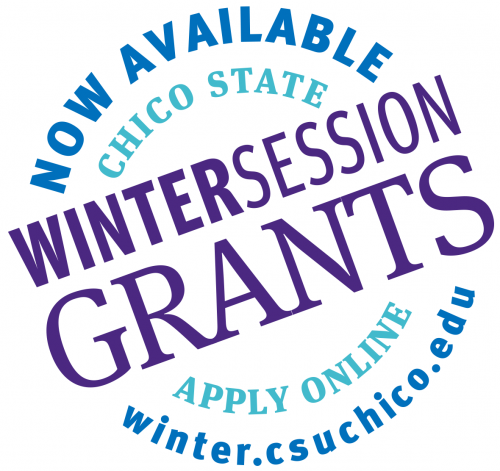 If you are admitted beginning in Spring '19, email Continuing Education or call 530-898-6105 to enroll in a Winter Session class prior to submitting your grant application.
Note: Winter Session Grants apply only to Winter Session '19 per-unit fees and may not be used toward past debts, spring fees, etc. Only one grant may be awarded per student.

How to Apply: Beginning November 1...

Register for the Winter Session class you need.
Complete the online application form below.
Continuing Education will confirm your eligibility and notify you of your grant status.
After you've been notified, pay fees due to complete your class registration.
Fill out my online form.
* The CSU makes every effort to keep student costs to a minimum. Fees listed in published schedules or student accounts may need to be increased when public funding is inadequate. Therefore, CSU must reserve the right, even after fees are initially charged or initial fee payments are made, to increase or modify any listed fees. All listed fees, other than mandatory systemwide fees, are subject to change without notice, until the date when instruction for a particular semester or quarter has begun. All CSU listed fees should be regarded as estimates that are subject to change upon approval by the Board of Trustees, the Chancellor, or the Presidents, as appropriate. Changes in mandatory system-wide fees will be made in accordance with the requirements of the Working Families Student Fee Transparency and Accountability Act (Sections 66028 - 66028.6 of the Education Code).