Executive Education Programs
Offered by Professional & Continuing Education at Chico State, in partnership with Zschool, these timely programs were created to address the growing need for strategic and expert professional development for today's executives.
Cybersecurity for Executives
​Cybersecurity is no longer solely the realm of the Chief Information Officer. Protecting your company's information requires executive commitment and that of other non-technical departments. Today's executives need to be knowledgeable about the language and framework of cybersecurity. Whether you attend our four-day, on-site immersion program or participate in the online program, you will learn from our cybersecurity faculty made up of experts, innovators, and regulators. This course will provide you with the knowledge required to manage cyber risk, to measure your organization's readiness, and develop your cybersecurity leadership skills.
Digital Marketing for Executives
Digital Marketing for Executives allows even the busiest marketing professionals the opportunity to better understand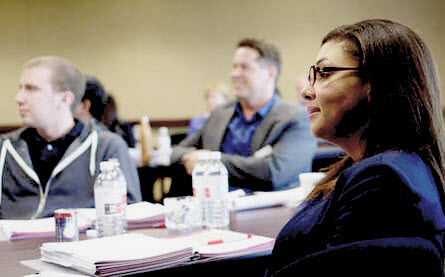 the impact of digital in today's workplace, and in tomorrow's. Whether you are trying to increase the marketing department's profile within your company, deliver unique and engaging customer experiences, provide value, or measure and report your impact on the bottom-line, developing digital assets and employing technology is likely at the core of your competitive advantage. The Digital Marketing for Executives curriculum empowers you with the latest integrated marketing strategies and tactics to win in today's hyper-competitive marketplace. Combining industry thought leaders and top academic faculty, the Digital Marketing for Executives program is the best way to gain the skills and knowledge to stay ahead of the competition.
Engineering Leadership Professional Development
Are you a high-potential employee seeking to move up in your engineering career? Do you aim to be better and more valuable than your competition? This may have seemed out of your grasp...until now. From biomedical to aerospace to computer engineering, to excel as a leader in your field, it is important to have a foundation for leadership that can be implemented and measured across multiple disciplines. This professional development program is taught by expert faculty and will provide you with the ability to interact as a leader, develop your skills as a leader, and execute as a leader within multiple types of engineering environments.
Women in Leadership Professional Development
In our society and in the workplace, women are faced with complex issues in a dynamic environment. Though they have historically been under-capitalized, today's women own more than 12 million businesses in the United States and continually meet or exceed company expectations in study after study. The Women in Leadership Professional Development Program serves as a platform for leading women and other executives to engage and uplift each other by inspiring positive change. Through education and instruction, you will learn how to navigate the nuances of leading a powerful organization. Through dialogue and exercises, the women mentors in the program will demonstrate their thought leadership, break down barriers, disrupt change, and influence behavior. The program is open to participants regardless of sex, race, color, or national origin who are committed to the mission and focus of the program.
Who Should Attend
These executive education programs are designed for a broad range of business and industry leaders and technology experts from around the world who hold strategic decision-making roles in both public and private organizations. Participants may include, but are not limited to:
• Business Executives • Industry Experts • Information Security Managers • Government/Military Officials • Private and public sector legal experts • Senior Managers of IT Assurance • Marketing Director • Information Security Analysts • Brand Manager • Director of Business Development • Financial Analyst • VP of Marketing • Director of Operations • Business Intelligence Manager • Engineers from all fields in administrative, mid-level management, and executive positions.
Registration
For more information or to reserve a seat, please email Megan Taylor.