CSU, Chico Bachelor of Science in Business Administration: Management Option at University Center in Redding, CA
Business Administration: Management Option
The Department of Management delivers courses designed to develop skills in the administration of human and physical resources, to foster decision-making and entrepreneurial thinking, and to provide students with exposure to diverse business environments and management strategies. Management graduates can apply their skills to developing fundable entrepreneurial ventures or positions in personnel management, production management, retail management, operations management, or government and private non-profit administration.
Management Option: Diverse Career Opportunities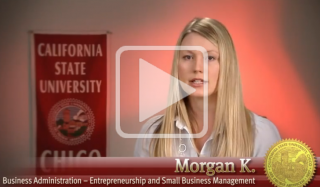 [3] Learn more from some of our recent graduates. The Management Option provides the background to become a productive, engaged leader who can manage the complexities of a 21st century organization. From analysis of system dynamics to corporate social responsibility to employment law, recent graduates have prepared for a variety of career paths in companies such as Oracle, Yelp, KPMG, and UPS.
Courses
The Business Administration: Management Option consists of 24-units, including five required courses and 3 electives. In addition, there are upper-division core courses that are completed online and at Shasta College University Center in Redding. Shasta College offers equivalents for prerequisite lower-division core courses. View the complete course listing and additional resources on the Curriculum page [4].
Advising
Business Student Advising & Services
Kristina Brown, Advisor
kbrown60@csuchico.edu
[5]530-898-4480

CSU, Chico Redding Coordinator
Dan Greaney
dgreaney@csuchico.edu
[6]530-339-3652
Helpful Links
CSU, Chico College of Business [7]
~ Department of Management [8]
University Catalog:
[9]~ Business Administration Coursework [10], includes Prerequisite Core, Upper-Division Core, and coursework specific to the Managment Option.