Spain: Food and Wine Exploration in Spain
Travel Dates: June 26–July 16, 2022. There will also be online and face-to-face meetings prior to travel. See course syllabus & itinerary.
Faculty: Dr. Jacob Brimlow [ Bio ]

Academic Credit: Earn 6 units of academic credit. [ Courses ]
About the Program
​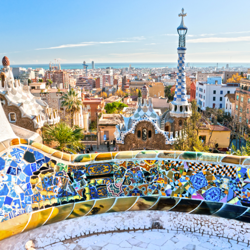 The program tours students through Spain, introducing them to Spanish food, wine, and culture and engaging them in comparative study of culture, food marketing, and the agri-food supply chain. Students visit cultural sites, conduct tours and seminars with food businesses, write and present on their experience, and practice sensory analysis of wine, cheese, and jamón. Students earn 6 units for two courses, ABUS 390: World Food and Hunger – Spain, and ABUS 411: Seminar in Ag and Food Marketing Planning – Spain.
Health & Safety During a Global Pandemic
Health and safety are our highest priority. CSU system policy requires that all students, staff, and faculty who access any in-person program or activity (on- or off-campus), including study abroad programs, must be fully vaccinated for COVID-19. Complete details and resources can be found on the Study Abroad site.
Cost
Total Program Fees of $7,668 includes:
Academic Course Fees (6 units): $1,800
Travel course fee (housing, transportation costs, group meals): $560
Program Fees: $5,308
Note: Above program fees do not include round-trip international airfare, meals other than those listed in the program, or personal expenses. Unexpected and urgent expenses may arise while abroad.
Academic Credit
This program offers six units of academic credit, allowing you to make progress toward your degree. Once your final fee payment has been made, Regional & Continuing Education will enroll you in the following classes:
ABUS 390: World Food and Hunger and ABUS 411: Seminar in Food Marketing (6 units) (syllabus here)
Program Faculty
Dr. Jacob Brimlow; A Chico State graduate, having obtained his BA in economics here in 1998, went on to earn both his MA in economics and PhD in agricultural and natural resource economics at North Carolina State University. Learn more.