History & Anthropology in Morocco
Travel Dates: May 31–June 22, 2022. There will also be online and face-to-face meetings prior to travel. See course syllabus.
Faculty: Dr. Jesse Dizard & Dr. Najm Yousefi [ Bios ]

Academic Credit: Earn 6 units of academic credit. [ Course ]
About the Program
​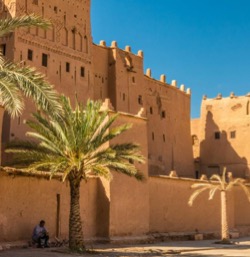 Morocco has long served as a bridge between Europe and Africa, as well as Islam, Judaism, and Christianity. This program focuses on the history, cultures, and religions of North Africa with special attention paid to its connections to Europe and the Middle East. Highlights will include visits to Casablanca, Fez, Marrakesh, and the Sahara Desert; homestays with Moroccan families; and study with subject matter expert professors fluent in Arabic and French from Chico State's Anthropology and History departments.
Health & Safety During a Global Pandemic
Health and safety are our highest priority. CSU system policy requires that all students, staff, and faculty who access any in-person program or activity (on- or off-campus), including study abroad programs, must be fully vaccinated for COVID-19. Complete details and resources can be found on the Study Abroad site.
Cost
Total Program Fees of $6,385 includes:
Academic Course Fees (6 units): $1,800
Travel course fee (housing, transportation costs, group meals): $675
Program Fees: $3,910
Note: Above program fees do not include round-trip international airfare, meals other than those listed in the program, laundry, or personal expenses. Unexpected and urgent expenses may arise while abroad.
Academic Credit
This program offers six units of academic credit, allowing you to make progress toward your degree. Once your final fee payment has been made, Regional & Continuing Education will enroll you in the following classes:
• ANTH 377: ​Anthropology of the Islamic World, 3 units, Syllabus
• HIST/MEST 362: The Middle East before 1800, 3 units, Syllabus
Program Faculty
Dr. Jesse Dizard, Anthropology; Fulbright Scholar, conducted research in Morocco and lived there for a year, speaks and reads fluent French. Learn more.
Dr. Najm al-Din Yousefi, History and Middle Eastern Studies; expert in Islamic history, and the history of science in Muslim societies. Learn more.