Florence, Italy: Arts and Ideas-Renaissance to Modern in Italy
Travel Dates: June 26–July 16, 2022. There will also be online and face-to-face meetings prior to travel. See course syllabus & itinerary.
Faculty: Dr. Greg Cootsona [ Bio ]

Academic Credit: Earn 3 units of academic credit. [ Course ]
About the Program
​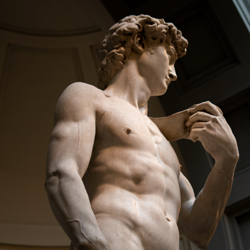 The program will cover major historical events, figures, and cultural developments from the Renaissance and Reformation of the 15th and 16th centuries to the end of the 20th century. In addition, the course will give particular attention to religion and philosophy, politics, literature, architecture, music, and art. Students will develop an appreciation of the "big questions" that have occupied the West for the past 600 years; develop an appreciation of historical and critical perspective in the study of culture; and sharpen their reading, critical thinking, writing, notetaking, web searching, and study skills.
Health & Safety During a Global Pandemic
Health and safety are our highest priority. CSU system policy requires that all students, staff, and faculty who access any in-person program or activity (on- or off-campus), including study abroad programs, must be fully vaccinated for COVID-19. Complete details and resources can be found on the Study Abroad site.
Cost
Total Program Fees of $3,565 includes:
Academic Course Fees (3 units)
Travel course fee (housing)
Note: Above program fees do not include the estimated cost for international airfare ($750), meals, or excursions ($1,365). Also, unexpected and urgent expenses may arise while abroad.
Academic Credit
This program offers three units of academic credit, allowing you to make progress toward your degree. Once your final fee payment has been made, Professional & Continuing Education will enroll you in the following class:
• HUMN 222: ​Arts and Ideas | Renaissance to Modern (3 units) (Course Syllabus)
This is an approved General Education course.
Program Faculty
Dr. Greg Cootsona, Religious Studies and Humanities; Has taught the course, Humanities 222: Renaissance to the present, several semesters at Chico State. He speaks conversational Italian and has visited Italy several times in the past twenty years. Learn more.