Primary tabs
OLLI Summer '22 Class Registration Opens
Thursday, May 19, 2022 - 9:00am
Ready, set, go! OLLI summer class registration opens May 19 at 9:00 am. With three ways to learn this summer with online classes, outdoor meetups, and in person c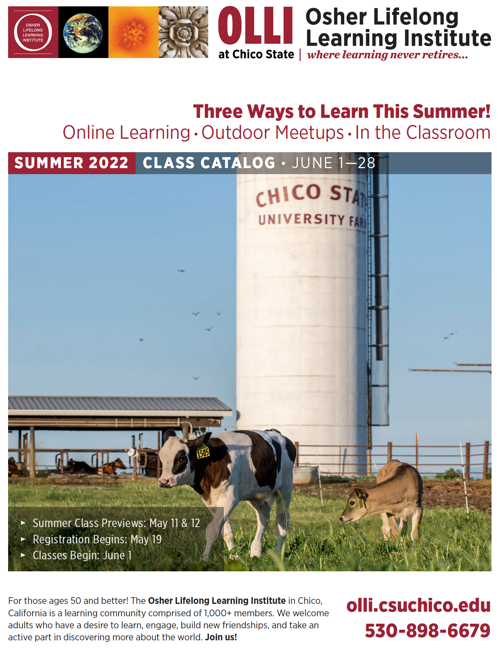 lasses, this OLLI summer schedule has something that will fit everyone's schedule.
Some classes fill quickly, so we recommend reviewing the class schedule (pdf) and planning your courses in advance. Pay one fee this summer & take unlimited classes!
If you need to join OLLI or pay membership fees, you can do that ahead of time by visiting the OLLI website at olli.csuchico.edu.
Need help selecting which class you want to take? Attend our Live-Online Class Preview via Zoom on May 11 from 10–11 am. Visit olli.csuchico.edu for Zoom link and information.
Want to attend an in-person class preview? Visit us on May 12 from 10-11 am at The Social Chico, Bradley 2 at 1400 W 3rd Street in Chico.
More information can be found on the OLLI website or by calling the OLLI office at 530-898-6679.