Primary tabs
** Regional & Continuing Education is working remotely until further notice. You can contact us via
phone
and
email
M–F, 8 a.m.–5 p.m. For additional information, read the campus'
COVID-19 News & Information
. **
OLLI Summer '20 Classes Begin

Monday, June 1, 2020 - 8:00am
OLLI's summer 2020 term officially starts today! This term all classes will be held online thanks to the fearlessness of our volunteer instructors and community partners, who remain committed to leading their classes in stay-at home style.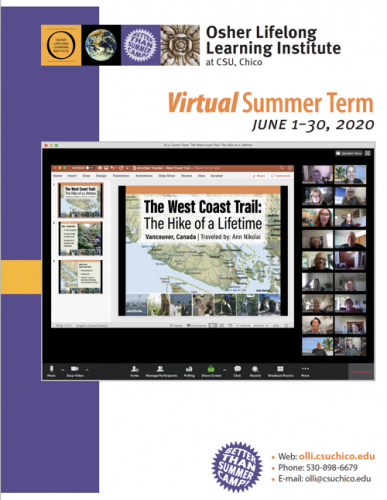 Together we're embracing a (very) steep learning curve and adoption of new technology as another opportunity for lifelong learning. While we never imagined the need to factor social distancing into our programming plan, we are motivated by our desire to stay connected—in new ways. We hope you'll join us for 30 terrific classes presented in both live-online and pre-recorded formats!
You can view the class schedule, download a catalog, and sign up for classes online. For more information, please visit the OLLI website.