Primary tabs
Innovation Grants Lunch & Learn

Thursday, November 8, 2018 -

12:00pm

to

1:00pm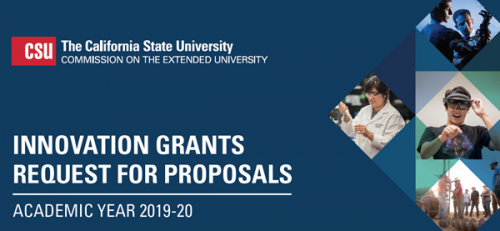 Regional & Continuing Education invites faculty and campus subject matter experts to an upcoming Lunch & Learn Session about Innovation Grants of up to $50k that are available from the CSU Commission on the Extended University for self-support program development.
We'll serve up lunch (!) and share:
• The purpose of the grant program
• The benefits of partnering with Continuing Education and other CSU campuses
• Examples of previously funded grants awarded to CSU, Chico
• Funding and evaluation requirements
• How to apply for a development grant
Extended and Continuing Education in the CSU system addresses emerging job markets, meets the needs of local economies, and creates self-funded programs that directly and indirectly contribute to California's economy and improve the quality of life for individuals and groups throughout the state and around the world. Since 1993, the commission's grant program has funded more than 160 proposals, distributing more than $7.1 million to CSU campuses for new program development. RCE is your partner for creating educational opportunities for our region and beyond, and we'd like to collaborate with you to create new Chico State programs.
Please join us to share ideas you have for new program opportunities and begin the competition for Innovation Grants! Lunch & Learn Sessions will be held in Continuing Education, Room 107 from Noon–1pm on:
• Thursday, November 8
• Wednesday, November 28
Please RSVP to the session of your choice by emailing hquilici@csuchico.edu. If you're unable to make one of these sessions but would like to learn more, email Clare Roby, Interim Dean, to schedule a conversation.