Primary tabs
GivingTuesday

Tuesday, December 3, 2019 (All day)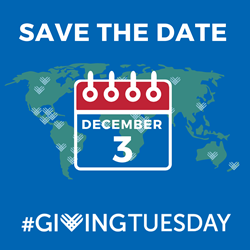 OLLI will be participating in GivingTuesday on December 3. Our goal is to raise $30,000 in this second year of our three-year, 30th Anniversary Campaign. With your help we exceeded our fundraising goal last year, increasing the Reserve Fund, enhancing our classroom technology, and ensuring every adult 50 and better has the opportunity to join OLLI regardless of their financial status.
GivingTuesday is a powerful national day of giving, when your dollars go toward the things you believe in and value, like lifelong learning. Check your inbox on December 3rd! You can help us work toward securing another 30 years of lifelong learning and keep our promise that learning truly is for everyone.
P.S. In addition to GivingTuesday, there are several ways you can help us celebrate three decades of lifelong learning at CSU, Chico and achieve our campaign goal. Every gift and every dollar counts. Can we count on you? Give a Gift. Make an Impact!