Primary tabs
Project Lead The Way Registration Opens

Monday, April 3, 2017 - 8:00am
Registration for Project Lead The Way's 2017 Summer Training classes opens April 3. Chico State is offering nine different Launch, Gateway, and Engineering core training classes. For more information and to see Chico's schedule, visit the Project Lead The Way website.
---------------------------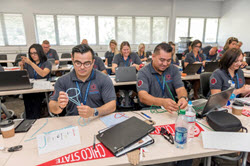 California State University, Chico is proud to partner with Project Lead The Way (PLTW), the nation's leading provider of K-12 STEM programs. PLTW's world-class, activity-, project-, and problem-based curriculum and high-quality teacher professional development, combined with an engaged network of educators and corporate partners, help students develop the skills they need to be successful in post-secondary education and beyond.