8-Week Online Program
Enjoy a self-paced learning format in the 8-week online Digital Marketing for Executives program. This online experience offers the flexibility of choosing the place and time of your education to best suit your schedule and personal learning style, while still providing the opportunity to ask questions and receive feedback from expert faculty.
Online learning benefits:
Absorb at your own pace.
Fit career-building training into your schedule.
Learn in a relaxed environment - your home or office.
Replay video presentations.
Review materials as often as needed.
Engage in subject discussions.
Download exercise templates to use in your organization.
Throughout the eight-module Digital Marketing for Executives Program, you'll solve real-world challenges and use best practices used within top companies. Digital Marketing experts guide you through every step of your journey.
The 8-week, self-paced program includes:
8–10 short videos per week.
Engagement activities and exercises that reinforce your new skills.
Interaction with peers and faculty through the online learning portal.
Participation in live virtual office hours with expert faculty and peers.
Additional resources for each module include case studies and commentary from industry leaders.
4 weeks of post-program mentoring.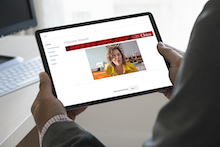 NEW! The best classrooms aren't always in rooms. Learn without limits with iPad-powered learning. The online asynchronous course is available on the new iPad Air, included with your registration, allowing you to learn, complete hands-on exercises, and stay connected to your instructors and peers on the go.*
Reserve your seat in one of our self-paced programs! ($4,995)

* iPad Air devices are only provided to students who pay full price and are not eligible for discounted registrations. Apple is not affiliated with this course and does not endorse or sponsor it in any way whatsoever.