** Regional & Continuing Education is working remotely until further notice. You can contact us via
phone
and
email
M–F, 8 a.m.–5 p.m. For additional information, read the campus'
COVID-19 News & Information
. **

Design Thinking for Executives, offered by Regional & Continuing Education at CSU, Chico, focuses on innovative thinking as a means of designing products and services. The Design Thinking for Executives program offers a challenging interdisciplinary curriculum designed to prepare you to analyze, create, and deliver unique customer experiences. Roll up your sleeves to solve real-world challenges and adopt innovative practices developed by top companies.
Innovation + Human Behavior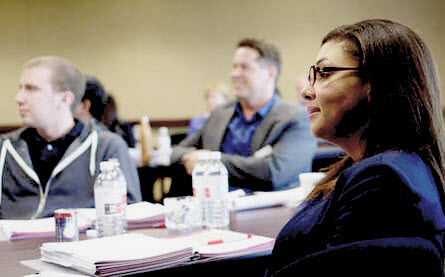 In today's ever-evolving business landscape, professionals must re-imagine how they approach business. Teamwork and combining both creative and analytical approaches are integral to solving complex problems in an interconnected, competitive, and dynamic environment. Design Thinking promotes a human-centered approach to innovation by employing a set of methods and corresponding mindsets. It concentrates on rigorous means of understanding human behavior to articulate needs and desires, generate deep insights, develop design solutions, and critique and test those solutions.
Expert Faculty to Guide Your Success
Program faculty will help you combine both creative and analytical approaches to solve complex, real-world problems, while employing a set of methods and a corresponding mindset to promote a human-centered look at innovation.
Professional designers and educators who are experts in their field guide you through the program curriculum as you:
• Develop innovative thinking as a means of designing products and services

• Learn new ways to manage complexity, serve human needs, and create sustainable products that cater to both individuals and businesses alike

• Work in teams to complete complex real-world projects designed to train and develop your technical and analytical skills

• Gain the Design Thinking leadership insights needed to move innovation forward within your organization