Cybersecurity for Executives Professional Development Program
Cybersecurity for Executives, offered by Professional & Continuing Education at Chico State, in partnership with Zschool, was created to address the growing concern of cybercrime. Cybersecurity is no longer solely the realm of the Chief Information Officer. Protecting your company's information requires executive commitment and that of other non-technical departments. Today's executives need to be knowledgeable about the language and framework of cybersecurity. Whether you attend our four-day, on-site immersion program or participate in the online program, you will learn from our cybersecurity faculty made up of experts, innovators, and regulators. They will show you how to address cybersecurity from a business point of view and develop a culture of cybersecurity at your organization.
Gain New Skills Needed ​to be Successful in Your Career
​The Cybersecurity for Executives course curriculum includes presentations, highly interactive modules, and technology use cases. The course will provide you with the knowledge required to manage cyber risk, to measure your organization's readiness, and develop your cybersecurity leadership skills.
Help Your Organization Defend Its Valuable Assets
Throughout the program, you'll gain: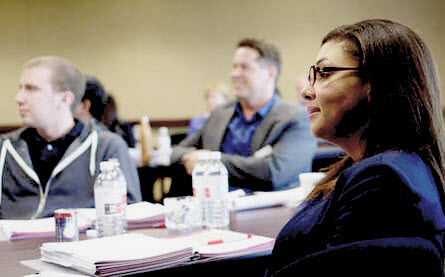 • Frameworks to measure cyber readiness and keep your organization secure
• An understanding of the business realities of cybersecurity
• The latest research regarding cyber regulation
• How to develop a corporate culture of cybersecurity
• Cyber insurance and risk mitigation strategies
• The latest thinking regarding privacy concerns
• How to develop a cyber budget and set performance metrics
• Cost-effective ways to protect your infrastructure
Who Should Attend
The Cybersecurity for Executives program is designed for a broad range of business and industry leaders and technology experts from around the world who hold strategic decision-making roles in both public and private organizations. Participant titles may include, but are not limited to:
• Business Executives • Industry Experts • Information Security Managers • Government/Military Officials • Cybersecurity Innovators • Private and public sector legal experts • Senior Managers of IT Assurance • Information Security Analysts • Cybersecurity Risk Analysts
A computer science background is not required to attend this program.
Registration
For more information or to reserve a seat, please email Megan Taylor.
* The Cybersecurity for Executives Professional Development Program is offered in collaboration with Zschool.