** Due to the Camp Fire, all classes ~ including online, OLLI, and ALCI classes ~ are suspended and will resume on November 26. Campus, including the offices of Continuing Education, ALCI, and OLLI, are closed and will re-open November 19. For more information visit www.csuchico.edu/campfire **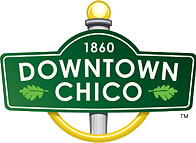 The location of Chico State is regarded as one of the most unique in the CSU. With the historic downtown Chico business district adjacent to the campus, we encourage all of our guests to experience the more than 50 eateries with unique flavors and the friendly atmosphere of downtown Chico. Visit the Downtown Chico website for a complete listing.

Additionally, the Chico News & Review offers reviews of restaurants not only in the downtown area but throughout Chico. Use this resource to find the right dining experience for any situation. For complete reviews visit the dining page of the Chico News & Review.