Business Process Integration, Configuration & Certification
Prepare to become a SAP Certified Application Associate—Business Process Integration with SAP S/4HANA

The Business Process Integration, Configuration, and Certification course series provides the foundational knowledge and hands-on experience to prepare you to pass the SAP S/4HANA TS410 exam and earn your certification. You can earn academic credit in each of two business process courses and then complete an intensive test preparation course to set you up for success.
The three courses are Business Process Integration (BPI), Business Process Configuration (BPC), and the S/4HANA TS410 Exam Preparation Course. You may take any or all of the courses in the program, however learners need to have completed both the BPI and BPC courses prior to the TS410 course. These courses may be completed at another SAP University Alliances member school.
Program Curriculum
Business Process Integration Course
BSIS 310: Enterprise Technology Integration (Online, 1.5 Units)
Summer '23 Dates: June 5–July 7
Fee: $525 ($350/unit)

This course introduces students to the end-to-end business processes and how processes are supported by information technology. An understanding of the business process data flows, and how that impacts the functional areas of an organization, is supported with hands on ERP system exercises. Given this foundation, students build an integrative, process-oriented understanding of information systems and their deployment, management, and use within distributed and global organizations. The course focus is on enterprise systems using client-server database systems management. For this course students are expected to have demonstrated proficiency in the use of microcomputers and office automation software, including word processing, spreadsheets, and desktop databases. Waived with appropriate academic or professional experience.

This course uses the Business Process Integration with SAP ERP reference guide, available as an ebook from Epistemy Press.
Business Process Configuration Course
BSIS 420: Enterprise Resource Planning: Systems Configuration and Use (Online, 3 Units)
Summer '23 Dates: June 19–July 14
Fee: $1,050 ($350/unit). Includes exam voucher.

This course focuses on setting up an SAP S/4HANA Enterprise Resource Planning (ERP) system for use in a global organization. Students learn how to configure a large system to support a global organization with multiple companies. Business processes are reinforced as students work through the configuration steps of creating the Enterprise Structure data, Rules and Parameters, Master data and then test the system. This course will explain the structure of an ERP system and enhances the knowledge of the framework of ERP which allows a deeper understanding of the processes and integration of functional areas which is needed to successfully sit for the TS410 Certification course and exam.

This course uses the Business Process Configuration with SAP ERP reference guide, available as an ebook from Epistemy Press.
S/4HANA TS410 Preparation Course
Online, Non-Credit
Summer '23 Dates: June 5–July 7
Fee: $495

The SAP S/4HANA TS410 certification exam verifies that the student has the core knowledge about business processes and business processes integration in the SAP S/4HANA ERP software. This certification exam is recommended as an entry level qualification to support the students' knowledge of the workings of SAP S/4HANA end-to-end business process fundamentals.

It is recommended that students studying to take the S/4HANA TS410 Certification Preparation course have completed the Business Process Integration course and the Business Process Configuration course or the equivalent at an SAP University Alliance partner university. Successful candidates typically have three or more courses with heavy concentrations of SAP S/4HANA course work. Modules studied should include FICO, SD, MM, PP, WM, PS, EAM, HCM and Fiori.

The self-paced online course is a guide to passing the TS410 Certification exam. You will need to allow a minimum of 80 hours to complete this course. A learning environment free of distractions will be critical to your success. This course covers competencies in the following key Business Process areas in proportion to the percentage of the test dedicated to the topic:
SAP S/4HANA Basics > 12%
Core Finance: Management Accounting (CO) > 12%
Design to Operate Processing > 12%
SAP Project Systems (PS) 8%–12%
SAP Enterprise Asset Management (EAM) 8%–12%
Lead to Cash Processing 8%–12%
Source to Pay Processing 8%–12%
Core Finance: Financial Accounting (FI) 8%–12%
Warehouse and Inventory Management < 8%
Hire to Retire Processing < 8%
In addition to the online materials, students have access to the SAP System for TS410 (or the GBI Client) to run through the exercises. This hands-on access allows you to see the system and processes covered in the lecture and textbook. Additional reference materials can be used to get a jump start on this course.

Recommended reading: Certification Guide for SAP TS410: Integrated Business Processes in SAP S/4 Hana. Paperback, December 5, 2021, by Robert Szymanski (Author), Viswa K Viswanathan (Author)

The TS410 exam is not included in the course, however students will receive a voucher for the exam from SAP once they are enrolled in the course. Guidance on how to sign up for the exam are included in the course, and tips on how to pass the exam will be provided in the lectures. Practice test questions are also provided. (Read more about the exam below.)
Instructor
Tom Wilder
Tom Wilder is Executive Director of the SAP University Competence Center and Senior Lecturer in the College of Business at California State University, Chico. Faculty since January 1997, Tom has taught in all three departments in the College of Business, has developed five courses, and taught a total of 24 different courses. He is a Stanford Certified Project Manager, an SAP Certified Associate, and a certified SAP TS410 and TERP10 instructor. In addition to his teaching, he writes curriculum for the SAP University Alliance program and teaches faculty members from other institutions how to use SAP in the classroom. His areas of knowledge within SAP include SD, MM, PP, FICO, QM, and PS. Tom received his undergraduate degree in Industrial Technology and a Master's Degree in Business Administration from Chico State. If you have questions about the program, please contact Tom Wilder.
Registration
Registration requirements: Applicants must be currently enrolled in an SAP University Alliance Member School and have knowledge of the SAP system gained through one of the SAP University Alliance partner universities. Successful candidates typically have three or more courses with heavy concentrations of SAP S/4HANA course work. Modules studied should include FICO, SD, MM, PP, WM, PS, EAM, HCM and Fiori.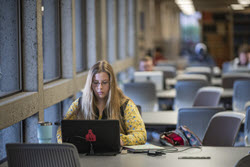 To determine your readiness to take the course and indicate which course(s) you wish to take, please complete our online request form. We will review your SAP-related coursework and experience and, if approved, will send you course registration link(s).
More About the SAP S4HANA TS410 Exam
The exam is delivered by SAP and can be taken at home or office in an online proctored environment. The exam has 80 questions and must be completed once you start it, with a time limit of 180 minutes. The format of the exam is multiple choice and multi-multi choice (MMC), where you must get all the answers correct to get credit for the question. In the MMC questions, the number of correct responses is stated. The exam is a pass/fail exam, with the cut score is 60%, meaning you need to get 68 questions correct to pass. A passing grade on the exam earns you the "SAP Certified Application Associate—Business Process Integration with SAP S/4HANA" designation, an entry-level certification that is widely recognized in industry. SAP certifications are valid for two releases of the product. Once you pass the exam you will receive a certificate from SAP documenting your achievement. You will also receive a logo file for "SAP Certified Associate" that you can use on your email signature and letterhead.
What is the cost of the exam?

The exam costs approximately $125 and is available only through SAP. Information on signing up for the exam is provided in the course.

What is the exam process?

The exam is a proctored exam, meaning that you will have to have a video camera connected to your computer. You will show the proctor your surroundings and the proctor will watch you while you take the exam. You can take the exam from anywhere that has secured internet, but it must be a private place. An empty office is best, free from distractions and easy to proctor. You should also use the restroom prior to starting the exam.

Can I use notes during the exam?

No notes or any materials are allowed during the exam. You cannot take a picture with your phone or have your phone with you. You cannot have anything but the test running on your computer.

What if I fail the exam?

You can retake the exam at any point after failing. The retake is at full cost, but can be done at any time. It is recommended that you review and study the sections you missed, and retake the exam within two weeks for best results.