The physical offices for Regional & Continuing Education are closed until further notice but our team is delivering services via
phone
and
email
during our regular business hours of M–F, 8 a.m.–5 p.m. If you are a student currently enrolled in a CSU, Chico class, please email your professor directly. For additional information, read the campus'
COVID-19 News & Information
.

Accommodations
We will camp at the Lake Concow Campground during the first segment and at Steven's Camp during the second. You will need to bring a tent that is comfortable for the entire twenty days. Overnight lows may reach the 40's at Steven's Camp, so a warm sleeping bag is essential. Space at picnic tables is limited, so you are encouraged to bring a camping chair. The campgrounds lack electricity and cell reception in the areas is poor, so be prepared to live "off the grid" and bring batteries for any essential personal electronic devices. The campgrounds do not have shower or laundry facilities, but we will have a solar shower available. Trips to town will be infrequent, so make sure you pack everything you need for each ten-day segment. [View / download a list of recommended field gear.]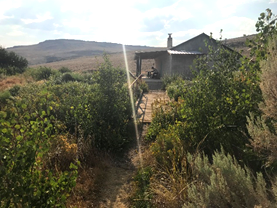 You are expected to participate in cleaning and cooking duties at camp. All food and potable water will be provided by the field school and prepared by the students. Breakfast will usually consist of oatmeal/cereal, fruit, coffee/juice; lunch—typically a sandwich, crackers/chips, a sweet snack and fruit—will be packed before leaving the camp in the morning. Dinner will be prepared by a rotation of student crews. We will do our best to accommodate dietary restrictions, but you may wish to bring snacks if you have specific dietary requirements. Please list all dietary restrictions, including food allergies, on the field school application.
The field school will disperse during the four-day break between segments, July 18–21, and students will be responsible for their transportation, food, and lodging during this period. Room and board is available on the Chico State campus dormitories for a fee. Please contact the field school directors for more information about this option.