Curriculum | Faculty | Schedule & Registration
Digital Marketing for Executives, offered by Professional & Continuing Education at Chico State, in partnership with Zschool, allows even the busiest marketing professionals the opportunity to better understand the impact of digital in today's workplace, and in tomorrow's. Whether you are trying to increase the marketing department's profile within your company, deliver unique and engaging customer experiences, provide value, or measure and report your impact on the bottom-line, developing digital assets and employing technology is likely at the core of your competitive advantage.
The Digital Marketing for Executives curriculum empowers you with the latest integrated marketing strategies and tactics to win in today's hyper-competitive marketplace. Combining industry thought leaders and top academic faculty, the Digital Marketing for Executives program is the best way to gain the skills and knowledge to stay ahead of the competition.
Demand + Opportunity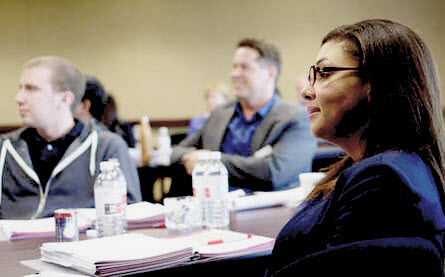 Digital Marketing is so much more than online advertising or acquisition. In reality, all marketing today is digital. Even print and broadcast marketing include digital elements. Marketing has become a value center for organizations and digital is at the heart of this exciting new development.
The demand for marketers who understand the digital landscape has never been greater. According to research by CapGemini, firms that are further along in digital maturity outperform their competitors in sales and ROI. Functions and roles previously performed by traditional marketing endeavors will shift towards new interdisciplinary divisions organized around the new digital experience. As organizations undergo digital transformation, the job market is expected to explode for marketing professionals who possess digital skills and strategies.
Applied Education & Training
The Digital Marketing for Executives Program at Chico State is an immersive program where you learn to apply principles and techniques that drive success in marketing in the digital age. Roll up your sleeves to solve real-world challenges and use practices developed by top companies, while Digital Marketing experts and professional instructors guide you through their curriculum. Throughout the program, you continuously build your toolset and:
• Develop strategies and apply them directly to your business.
• Break through silos to bring your organization together on behalf of your customers.
• Eliminate barriers and develop a customer-centric innovation mindset.
• Gain customer insights and turn ideas into action.
Who Should Attend
The Digital Marketing for Executives Program at California State University, Chico is appropriate for high potential employees seeking to move up within their organization, as well as seasoned marketing professionals seeking to increase their understanding of the latest technologies and how to employ these technologies to drive ROI at their firm.
Participant titles may include, but are not limited to:
• Brand Manager • Director of Business Development • Financial Analyst • Senior Marketing Manager • Marketing Director • Marketing Manager • VP of Marketing • Director of Operations • Business Intelligence Manager
* The Digital Marketing for Executives Professional Development Program is offered in collaboration with Zschool.