8-Week Online Program
Start your journey now and lead your organization to greater success and a more profitable bottom line by joining other renowned female business experts in this pedagogical discourse. Begin your path to recognizable leadership and culminate the program with a comprehensive capstone project, elite certificate, and personal portfolio of resources to excel.
Online learning benefits:
Start when you like and learn at your own pace
Be part of dynamic discussion forums
Meet renowned experts across industries
Collaborate with others in your cohort
Download interactive projects for multi-use purposes
Replay video and audio dialogue as needed
A blend of self-guided and instructor-led learning
Flexible schedule
Easy-to-use learning platform
Resources to continue learning and growth
The program includes:
8–10 short videos per week.
Engagement activities and exercises that reinforce your new skills.
Interaction with peers and faculty through the online learning portal.
Additional resources for each module include case studies and commentary from industry leaders.
4 weeks of post-program mentoring.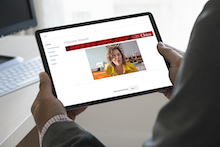 NEW! The best classrooms aren't always in rooms. Learn without limits with iPad-powered learning. The online asynchronous course is available on the new iPad Air, included with your registration, allowing you to learn, complete hands-on exercises, and stay connected to your instructors and peers on the go.*
Reserve your seat in one of our upcoming programs! ($4,995)
* iPad Air devices are only provided to students who pay full price and are not eligible for discounted registrations. Apple is not affiliated with this course and does not endorse or sponsor it in any way whatsoever.