The History, Archaeology & Culture of Greece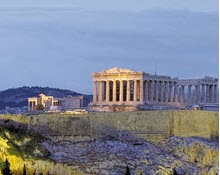 Travel Dates: June 6–30, 2020
Faculty: Prof. D. DeForest (CSU, Chico) & Prof. John T. Barnes (University of Tennessee – Knoxville) [ Bios ]

Academic Credit: Earn 6 units of academic credit. [ Course ]
About the Program
This study abroad program offers the opportunity to study the history, culture and archaeology of Greece from a diachronic perspective. The program will introduce you to Greece's complex past through site visits, reading assignments, lectures, and exposure to Greek culture.
Greece presents a unique case: an EU country that sits astride supposed "civilizational" fault lines. This historical fact has colored and affected the development of the modern Greek nation-state since its founding, and it continues to do so today.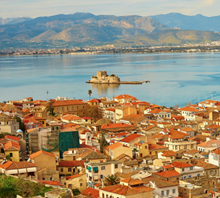 During the program we will explore this complex dynamic diachronically through the application of different types of evidence (literary, documentary, material) to grounded historical questions. In so doing, you will gain direct exposure to a wide range of issues and problems that historians, art historians, archaeologists, anthropologists, political scientists, and others continue to grapple with today.
Cost
Total Program Fees: $5,942
• Program Fees: $3,845
• Academic Course Fees (6 units), Foreign Travel Insurance & Administrative Fees: $2,097

*If the program cancels due to low enrollment you will receive a full refund
Note: The above program fees do not include round-trip international airfare, meals other than those listed in the program, laundry or personal expenses (estimated at $1,800).
• March 1, 2020: TREK application and $450 deposit paid online to AIFS.
• April 11, 2020: Final program fees of $3,395 due to AIFS. AIFS reserves the right to withdraw students who are not paid in full by the final payment deadline.
• May 15, 2020: Unit fees of $1,800 & Travel Course Fees of $297 due to CSU, Chico Regional & Continuing Education (RCE)
Academic Credit
This program offers six units of academic credit, allowing you to make progress toward your degree. Once your final fee payment has been made, Regional & Continuing Education will enroll you in the following classes:
• HIST 301 - Ancient History: Greece
• HIST 498 - Special Topics: Medieval & Post-Medieval Greece
Program Faculty
Professor Dallas DeForest, CSU, Chico, is an ancient historian whose research explores the social and cultural history of the Roman Empire. He uses material evidence extensively in his work and takes a particular interest in the Roman city, monumental architecture, daily life, and religion. He was a Fulbright Fellow in Greece during the 2010-11 academic year and a research fellow at the American School of Classical Studies at Athens from 2010-12. He has worked on a number of archaeological projects in Greece and Cyprus and maintains an interest in the diachronic history and archaeology of both countries. He teaches History 101, upper division courses in Greek, Roman and Byzantine history, and History 300W at the university.
Dr. John Tristan Barnes, University of Tennessee Knoxville, is a classical archaeologist specializing in Greek prehistoric landscapes and ancient astronomy. He was a fellow at the American School of Classical Studies at Athens between 2010 and 2012, during which time he traveled widely all over Greece exploring the ancient and modern countryside. As an active field archaeologist, he has excavated in Athens, Corinth, and on the island of Crete in a variety of contexts, ranging from Minoan palaces to Classical markets, Roman baths, and Byzantine houses. He currently works in the Department of Classics at the University of Tennessee Knoxville.