OLLI Fall Break: October 18–29. Classes resume on Monday, Nov. 1.

Fall is our favorite time of the year and we're eager to meet new members and reconnect with old friends both online and face to face! Our Fall 2021 Class Catalog features more than 80 classes in one of three learning formats so you can choose what works best for you: online learning, outdoor meetups, or in the classroom.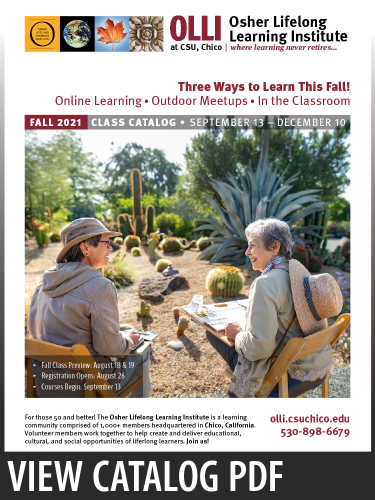 Not Too Late to Enroll in Classes After the Fall Break
A dozen late-starting classes are set to launch after the fall break, including a number of financial and estate planning classes, like Behavioral Finance and the Psychology of Investing, Retirement Planning & Investments, Costly Mistakes of Estate Planning, Save or Shred: Organizing & Securely Disposing of Documents, and Reverse Mortgage Myth vs. Reality. Our conversation about equity and inclusion continues on Zoom with Becoming Inclusionary, a five-week series that highlights the experiences of guest presenters on a wide-range of subjects, from Japanese-American exclusion in Washington State, improving the police and social justice systems, and becoming more inclusionary in the mental health field. Remember space is unlimited in OLLI Zoom classes. Drop in anytime and check out our online classrooms!
Access Your Online Classes
OLLI members who have registered for online classes can find the links to join the class on the Membership Site.
1) Go to the OLLI Membership Site
2) Click Sign In at the top of the page
3) Enter your user name and password
4) Once signed in, click the "Person" icon at the top of the page.
5) Click Member Page from the list of links.
6) Click on This Week's Class Links or Past Class Recordings to join and learn. These documents will be updated each weekend so you'll be ready for the next week's classes.
Vaccination Required for Face-to-Face Classes & Activities
Out of an abundance of caution (and consistent with CSU policy), OLLI in-person classes and activities will be safely distanced, with masks required indoors. Proof of vaccination to attend in-person classes is also required. Please fill out the online COVID-19 Vaccine Record prior to the start of your first class.
How Much Does OLLI Mean to You?
The financial support of our members, community partners, and others who believe in the importance of our organization ensures that OLLI can continue to serve adults in Chico and surrounding communities and allow us to expand the variety of programming that makes the OLLI experience rich.
Whether you sign up to make a monthly, sustaining gift or a one-time contribution, we hope you'll show how much OLLI means to you by pledging a gift consistent with your means. All donations, large and small, impact the OLLI of today and help ensure our future.
• Become a Sustaining Member: Our goal this year is 10 new donors pledging $25/month
• Become a CSU, Chico Tower Society Member: Our goal is 5 leadership gifts of $1,500
• Become a Legacy Donor: A bequest helps ensure our sustainability long into the future
• Make a One-Time Donation: Every dollar helps. Every dollar counts. Every dollar is appreciated!
A Brighter OLLI Is an Engaged OLLI!
OLLI serves a vibrant community of adults over 50 who are generally well-educated, active, engaged in life, and have disposable income. The generous gifts of our business sponsors support the cognitive and social benefits of OLLI, help us deliver excellent programming, and enable us to offer fee assistance to members who couldn't otherwise afford to participate. Thank you to our Business Sponsors!
• Altum Wealth Advisors • Chico Hearing Aid Center • California Water Service

• Chico Eye Center • Enloe Medical Center • Loeta Robles, DDS • North Valley Eye Care • Tri Counties Bank
Meet Your Match!

Volunteers are the backbone of OLLI at CSU, Chico. They provide instruction, communications, technical support, outreach, and help us make important social connections. Without volunteer support, OLLI Chico could not provide the array of lifelong learning experiences members enjoy year-round. The Volunteer Connections Program is designed to keep OLLI programming sustainable by expanding volunteer participation. Learning more about you—your skills and interests—will help us connect you to areas of need within the organization. Email us if you'd like to Connect Today.