Pssst! Here's a Secret About Fall Classes...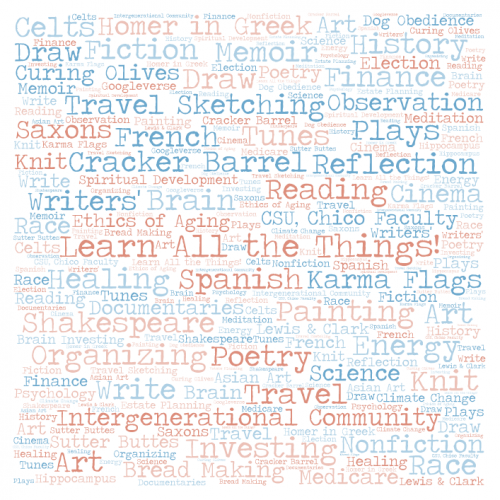 While we greatly miss connecting face-to-face with our friends during class, this year's online model offers the opportunity to sign up for as many classes as interest you without worring about time conflicts! Even the majority of the "Live Online" classes will be recorded so you can pick which classes to attend in real-time and which to watch on demand...and Learn ALL the Things! How great is that?!
Class Registration is Now Open
Need to review the schedule? Browse online or download the fall catalog.
To Register Online:
Log in with your last name and member ID, or add your name in the New Members section if you're new to OLLI (and Welcome!).

Forgot your member ID? Click the ID Lookup button on the log in page, then check your email.

If you haven't already paid for a membership, click the "Add/Purchase a Membership" link. Be sure to click informed consent box at bottom of screen before clicking "submit."

Once you have an paid fall membership, click the "Register for Classes" link.

Check the boxes next to the classes you want to register for. Submit, review, and confirm your class selections.

You'll be emailed a copy of your completed class registration.

You can log in any time throughout the semester to add more classes or drop a class.
Mail-In Registration:
If you'd prefer to email in a form, download the membership and class registration form here.
OLLI Fall Preview ~ Watch on Demand
Our VIRTUAL Fall 2020 Class Preview was great! If you missed it, or would like to share it with a friend, here's a recording of the event.
Fall 2020 Schedule
The fall 2020 schedule includes 57 classes, most of which are live-online, that are creative, thought-provoking, and engaging—just as lifelong learning should be!
NEW CLASSES such as Science Fiction Masters, Ethics of Aging, Asian Art History, Harness Your Hippocampus & Balance Your Brain, Race in American Art & Literature, and Intro to Drawing & Painting on iPads join RETURNING FAVORITES like Wisdom through Meditation, the Chico State Faculty Lecture Series, Great Decisions, Lewis and Clark, Tuesday Tunes, and Bread Making.
There are two ways to view the fall 2020 schedule:
• View/Download the Fall Catalog (pdf) ~ Includes class information and forms
• View the Online Schedule ~ Click the class title for descriptions and peer leader bios!
Fall Fees ~ Join Today
Fall '20, Spring '21 & Summer '21 Bundle

• 2 Payments of $115 or
• 5 Payments of $46 or
• Single Payment of $230

Fall '20 & Spring '21 Bundle

• 2 Payments of $107.50 or
• 5 Payments of $43 or
• Single Payment of $215

Peer Leader Fall '20 & Spring '21 & Summer '21 Bundle

• 2 Payments of $92.50 or
• 5 Payments of $37 or
• Single Payment of $185

Pay Fees Now & Be Ready for Fall Class Registration
• To pay fees online in a single payment, log onto the OLLI membership site.
• To sign up online & pay fees in installments, please use this online form, download our membership form (pdf) or call the OLLI office at 530-898-6679.
• To join & pay fees by mail, download our membership form (pdf)
Zoom Boot Camps...More Dates to Choose From!
OLLI uses Zoom to hold live-online classes. If you have a computer—or even just a smart phone or tablet—you can participate! If you're new to Zoom, there are online training videos and instructions to help you get to know Zoom, and we'll be offering online training sessions called "Zoom Mini Boot Camps" to help familiarize you with the technology. Sign up online for a session that matches your device!

If you'd like some additional online training, here are some additional Zoom tutorials:

• How to Join a Zoom Meeting
• How to Participate in a Zoom Meeting
• How to Access a Class Meeting on Zoom (From Univ. of North Florida)
• Zoom Tutorial Video
Learning Looks a Bit Different These Days...But Never Stops!
Stay engaged with a library of recorded lectures available to OLLI members!
One of the most vital roles of OLLI is bringing people together. OLLI Chico took the lead in creating a national inventory of recorded lectures for all 200,000 OLLI members in the network to access. While there's no substitute for learning together, we hope this provides one small way to connect (virtually) during these uncertain times. We hope you enjoy our growing library of:

• Presentations & Lectures by OLLI Chico Instructors [View Library]
• Presentations & Lectures by Other OLLIs [View Now]
• Recorded Presentations, Lectures & Panels at CSU, Chico [View Library]
• Additional Online Learning Resources, Virtual Tours & Live Cams [View Library]
A Brighter OLLI Is an Engaged OLLI!
OLLI serves a vibrant community of adults over 50 who are generally well-educated, active, engaged in life, and have disposable income. The generous gifts of our business sponsors support the cognitive and social benefits of OLLI, help us deliver excellent programming, and enable us to offer fee assistance to members who couldn't otherwise afford to participate. Thank you to our Business Sponsors!

• Altum Wealth Advisors • Harris & Plottel, Attorneys at Law • Chico Hearing Aid Center • California Water Service • North Valley Eye Care

• Chico Eye Center • Enloe Medical Center • Loeta Robles, DDS • Mark Womack, DDS • Chico Hospital for Cats • Tri Counties Bank •
Meet Your Match!

Volunteers are the backbone of OLLI at CSU, Chico. They provide instruction, communications, technical support, outreach, and help us make important social connections. Without volunteer support, OLLI Chico could not provide the array of lifelong learning experiences members enjoy year-round. The Volunteer Connections Program is designed to keep OLLI programming sustainable by expanding volunteer participation. Learning more about you—your skills and interests—will help us connect you to areas of need within the organization. Email us if you'd like to Connect Today.