Jason Bellini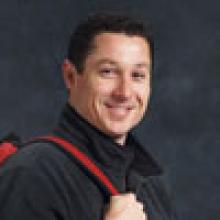 "I was back in Chico on business when the thought of continuing my education came to me," Jason Bellini noted. Jason knew Chico well, having earned his baccalaureate in English several years earlier. This time he was interested in coming to campus to earn a certificate in literary editing and publishing.
"The certificate program has a quality reputation, and I feel the experience will help open doors in the publishing industry."
Because Jason had already earned his degree from CSU, Chico, he wasn't immediately eligible to register for certain undergraduate courses required by the certificate program.
"It got confusing because my status as a student was unique. I was impressed when the dean of Continuing Education took time out of her schedule to help me figure out my situation. I was always able to come back to the office staff at Continuing Education and count on them to find the answers for me. Through Continuing Education and Open University I enrolled in the courses I needed to make my dream of finishing the certificate a reality.
"I recently completed my certificate program. The advisor and professors were very helpful and encouraging. Through these relationships I now have professional editing and writing experience which will help in the job market."