** Regional & Continuing Education is working remotely until further notice. You can contact us via
phone
and
email
M–Th, 7 a.m.–5:30 p.m. For additional information, read the campus'
COVID-19 News & Information
. **
Massimo Pigliucci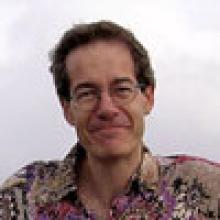 For five days in June 2003, CSU, Chico hosted Evolution 2003—the Joint Meeting of the Society for the Study of Evolution, Society of Systematic Biologists, and American Society of Naturalists. More than 1,100 scholars and students from around the world came to Chico, making it the largest professional conference ever to take place on campus.
"As executive vice president of the Society for the Study of Evolution, I was closely involved with the local hosts in organizing the Society's 2003 meetings in Chico," commented Massimo Pigliucci, professor of ecology and evolution, Stony Brook State University of New York.
He remarked, "My experience of both the organizational phase and the actual event was absolutely positive. I was pleasantly surprised by the atmosphere in Chico—both the town and the campus. We accommodated 16 concurrent sessions, with close to 700 oral presentations, four symposia, and 250 posters. I would highly recommend the location for future meetings of either our or other comparable professional societies."