Okinawa Global Leadership Program Introduces Japanese Students to American Culture

Thursday, August 23, 2018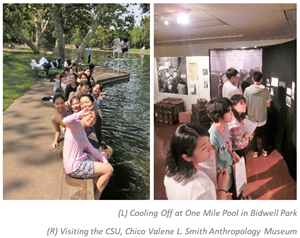 After a long transpacific flight, 20 sleepy but excited teens arrived at Sacramento International Airport and hopped aboard a waiting Chico State bus. With one leg of their journey left to go, the 15–17 year olds started to feel feverish with excitement…or maybe it was just the 100° heat as they made their way through the Sacramento valley fields toward their home for the next three weeks as part of the Okinawa Global Leadership Program at CSU, Chico. Along with 20 others participating in an identical program in Bozeman, Montana, the students were finalists from a group of over 200 from across Okinawa, Japan who applied to the international summer program.
The American Language & Culture Immersion (ALCI) hosted the group and their teacher chaperones for the three-week program. They spent a significant part of their time in Chico on the Chico State campus. The students completed ESL coursework with ALCI instructors, participated in leadership and team building sessions through the Cross Cultural Leadership Center, and visited the Valene L. Smith Museum of Anthropology to view the exhibit on Japanese internment camps during World War II. Local area excursions gave them a taste of Northern California history, entertainment, and local beauty. They took a tour of historic Bidwell Mansion, went swimming in Bidwell Park, cheered on the Chico Heat baseball team, saw the local agricultural bounty at a farmers market, and enjoyed cooler air at Mt. Lassen Volcanic National Park.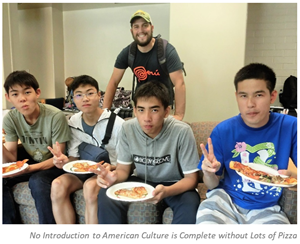 After a few days of experiencing dorm life in Sutter Hall, the students lived with local families, giving them a taste of American family life and more interaction with others outside the program. In addition, the group spent time with two Chico State and four high school student ambassadors, socializing during lunches and outings and working together on students' projects.
While much of their time in Chico was spent learning American language and culture, the Okinawa Global Leadership Program students also had much to share about their own culture. They prepared a presentation about Okinawa, incorporating singing, dancing, and karate for children at the local Boys & Girls Club. They also made a presentation to Chico State instructors and staff, as well as representatives of the Okinawa Board of Education who were in town to visit local schools and see the Global Leadership Program in action.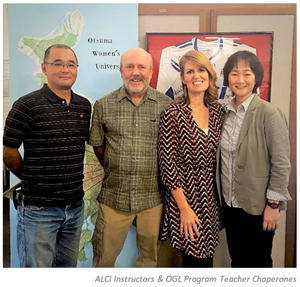 The students weren't the only ones who were hard at work during the three-week program. The two chaperone teachers who accompanied the students to Chico underwent intensive TESOL training by ALCI lead faculty, and developed an engaging and meaningful 2-hour ESL lesson that they taught to the Okinawan students during their last week of classes.
At the end of their visit, the students shared "Vision Boards" that they created which served as reflections of their time in Chico, were presented certificates for their hard work and success in the program at a special celebration, and took home the introduction paragraph to a college application essay…a step into their bright futures.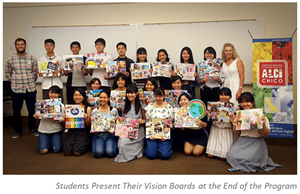 Submitted by mamcgowan on Thu, 08/23/2018 - 12:37pm