Winter Session Offers Accelerated Courses

FOR IMMEDIATE RELEASE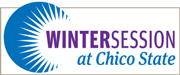 Date: 01-09-2015
Sarah Langford
Public Affairs
530-898-4260
Melissa McGowan, Marketing Director
Regional and Continuing Education
530-898-5682

Nearly 1,000 students are earning university credit during their semester breaks through the Center for Regional and Continuing Education's (RCE) Winter Session at California State University, Chico.
The session, which began Jan. 3 and ends Jan. 17, allows participants to complete in 12 days the same curriculum they would in a typical 15-week course. From human resource management to 3-D computer modeling, a variety of classes are offered to help students reach their academic and career goals.
Among those taking advantage of the opportunity is Melanie Caldwell, a junior who is double majoring in marketing and international economics and double minoring in global perspectives studies and statistics.
Caldwell said that without Winter Session, it would likely take her five years to graduate. By taking Communication in Business (BADM 300), taught by management professor Robert Sprague, plus two courses last summer, she is on track to graduate in spring 2016, four years from when she started.
"This saves me a class I won't have to take this spring," she said, adding that she is also enrolled in the Professional Sales Certificate program. "I try to take the wait-listed classes during the intersessions so I can spend my semester focusing on my major classes."
Winter Session is open to enrolled CSU, Chico students, those at other colleges and universities, and anyone looking to earn university credit. On-campus classes meet for about four hours daily, and about 19 of this session's 34 courses are online.
This year's session is serving 942 people, most of whom are CSU, Chico students.
Winter Session was established in 1975 and has been offered through both Regional and Continuing Education (RCE) and the University over the years. A similar annual program, Summer Session, offers even more courses and sessions.
"Both Winter and Summer Sessions are a fantastic opportunity to help students realize their graduation goals," said Elaina McReynolds, director of Special Session and Extension for RCE. "Our online upper- and lower-division classes help prepare them for spring, get closer to completing their degree and take advantage of their breaks."
To learn more about Winter Session, please visit RCE's website at rce.csuchico.edu/winter.
Originally printed at http://www.csuchico.edu/news/current-news/1-9-15-winter-session-offers-accelerated-courses.shtml
Submitted by mamcgowan on Wed, 01/14/2015 - 9:50am