The International Nurse Remediation Program provides coursework and clinical placements for nurses who have been educated outside of the United States and who must remediate deficiencies in their education as determined by the State of California Board of Registered Nursing (BRN) in order to take the National Council Licensure Examination (NCLEX) and receive their nursing license. All program courses have been approved by the California Board of Registered Nursing (BRN).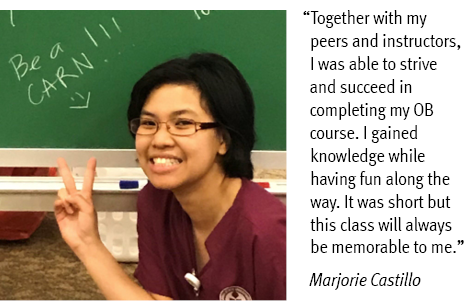 Our program is currently on hold until summer 2022. If you would like to be notified when the application period opens, please complete the contact form on this page. Participation requires acceptance to the program by the CSU, Chico School of Nursing.
Obstetric Course Overview:
• The online theory course runs during the summer
• The clinical course will 2-3 days per week for 3 weeks. Subject to change.
• Courses fees are $4,485*
• Additional fees apply, including application and interview fees, textbooks, supplies, and clinical requirements (i.e. immunizations, etc).
Eligibility
• Applicants must have finished nursing school in the last 5 years or worked as a nurse in the last 10 years.

• Applicants must submit a letter from the Board of Registered Nursing indicating the course(s) needed.

• Students with an F-1 or J-1 visa, may enroll in our courses with permission from her or his institution issuing the I-20 (F) or DS-2019 (J). You will need to provide written permission from where you are currently enrolled for concurrent enrollment and optional practical training.
How to Apply
We will begin taking applications in January 2022, for the '22 summer program. If you'd like to be notified when the application period opens, please fill out the "Learn More" form on this page.
Additional Requirements
Upon admission to the program, you will be required to submit proof or complete the following as instructed by the School of Nursing:
• Criminal background check & drug screen
• CPR certification for health care providers
• Tdap: 5 years are after age 19
• One of the following completed within the last year: negative two-step TB test, negative Quantiferon Gold Test, or a clear chest x-ray
• MMR: 2 vaccines or positive titer
• Hep B: 3 vaccines within a one year period or positive titer
• Varicella: 2 vaccines or positive titer
• Flu vaccine (October–April only)
• Health insurance
• Auto insurance
Obstetrics Courses
NURS 317–Maternal Nursing Theory
This online course presents the theoretical basis for the evidence-based practice of maternal nursing, including knowledge basic to the professional nursing care of the antepartum, intrapartum, and postpartum mothers, newborns and their families.
NURS 318–Maternal Nursing Practicum
This is a directed and supervised practicum course, focusing on maternal nursing and care of normal and high-risk childbearing families. Experiences are provided in skills lab, simulation center, and hospital settings to provide students with the opportunity to apply knowledge and the nursing process to the health of pregnant women, and newborns.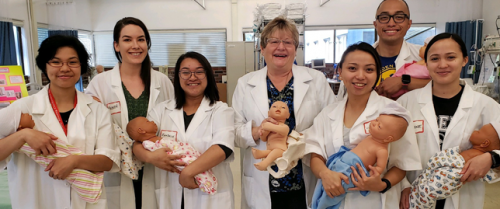 * Fees subject to change. This program is not available for federal loans or financial aid. You may, however, be eligible for other options, such as loans.