Primary tabs
Speech-Language Pathology Assistant (SLPA) Program Online Info Session
Tuesday, February 14, 2023 - 10:00am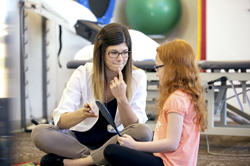 CSU, Chico's Speech-Language Pathology Assistant Licensure Pathway is an intensive 10-unit, post baccalaureate licensure pathway that provides students with the clinical training and supervised fieldwork experience they need to apply for speech-language pathology assistant licensure.
The program consists of two courses: a three-unit online course followed by a field experience. Applications are now open and the deadline to apply to start in summer '23 is April 14.
The first step in the application process is to attend one of our live-online information sessions. This is your opportunity to meet the program instructor and SLPA field experience ​coordinator, learn important details about the program and the application process, and have your questions answered. After attending an info session, you will be provided next steps and links to the application forms.
Register with your name and email address to join an upcoming session:
• Tuesday, Feb. 14 | 10 a.m.
• Monday, Feb. 20 | 3:30 p.m.